Black Obsidian Stone...
Cleanses Negative Psychic Smog From Aura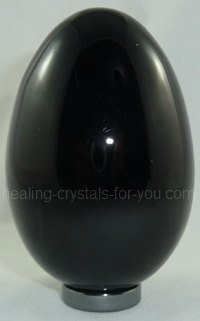 Black Obsidian Stone Egg
You are here: Home > Obsidian Stone
Part Two > Part One
Black Obsidian Stone is a powerful cleanser of psychic smog created within your aura, and is a strong psychic protection stone.
It has powerful metaphysical properties that will shield you against negativity, and the energy of these stones may stimulate the gift of prophecy.
Pieces of these stones that had a shiny surface were used in the past as a tool for scrying.
It an excellent crystal to use when you have been doing spiritual or healing work, as it has a strong action to ground you to Mother Gaia.
This black stone is excellent to assist you to release disharmony that has built up in your day to day life and during work on yourself, including resentment of others, fear and anger.
What Is Obsidian?
Obsidian rock forms from molten lava that cooled very quickly and had no time to form into glass. It is said to be a type of volcanic glass, and is found in a number of places worldwide.
There are a number of different variations of this stone, and it comes in a range of types and colors. This includes the beautiful rainbow obsidian crystals, that are quite beautiful.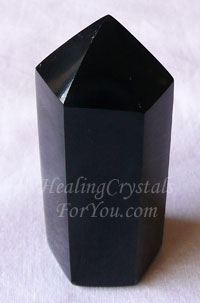 The stone may also be green and purple, brown, blue and green, but the Black crystals are what I am concentrating on in this article, as they have some powerful metaphysical properties.

Apache Tears are also in this family, and they are closely related with some excellent qualities.
Snowflake Obsidian is the black and white stone, and you can see these in the photo gallery further down the page.
While the different types of this crystal have different metaphysical properties, all sorts or colors have excellent healing attributes.
The black stones have an excellent spiritual grounding vibration and also have a strong psychic protection energy.

How To Use It
Black Obsidian Stone is an excellent stone to aid past life healing.
This may be particularly related to healing your ancestral line, and this energy may aid you to deal with issues relating to past misuse of power.

The vibration of this stone may resonate within the third eye chakra and has a strong vibration to aid the receiving of answers to questions.
These black stones are one of the premier crystals to assist you to communicate with spirit and may bring through the power of prophecy.
If you have come back to this life in order to resolve a past life issue,  place a piece of the stone on the third eye and ask about this.
This may help you to discover the purpose for being here in this life at this time. By asking questions aloud and listening, you may hear the answer whispered back to you.
This allows you to ask questions about specific questions around relationships, finances, career choices or health issues, and the answers will help you to make better choices.

"Be faithful in small things because it is in them that your strength lies." Saint Teresa.

How Will It Help You?
Beautiful Black Obsidian Stone is easy to buy, including pieces of Obsidian jewelry.
They are a birthstone for Sagittarian's, but of course they can be used by those born under other star-signs as well.  
It is common to find Obsidian beads used in combination with other stones, including other colors of Obsidian, such as Mahogany or Snowflake Obsidian, as all colors of this stone are very popular.
This is a stone that has strong metaphysical properties to protect you from negativity, and is very useful to help you to let go of disharmony that has accumulated from your day to day life.
If you are doing spiritual work on yourself you may release past problems, including emotions such as fear, anger, stress and resentment of others.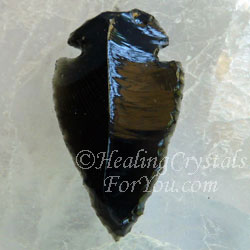 Black Obsidian Spear Pendant
Obsidian pendants and rings are easy to buy, and you may find interesting pieces like the Black Obsidian spear pendant shown in the picture on the left.
These stones are on the zodiac birthstone list, so  they make this crystal into lovely necklaces in a variety of styles and types of obsidian.
A build-up of psychic smog may occur within your auric field, and it may be released by the use of this crystal, as it is a powerful spiritual cleanser.
It may also aid you to contact your guides and may stimulate the gift of prophecy.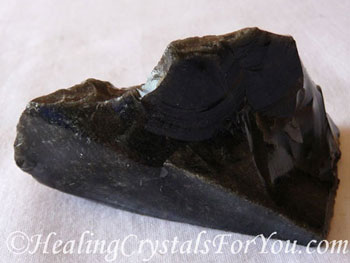 Natural Black Obsidian Stone
---
---
More pictures of Obsidian Stone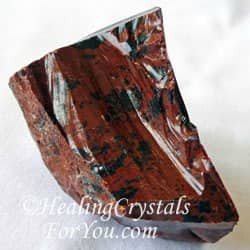 Mahogany Obsidian Stone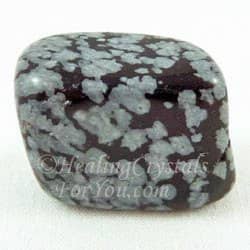 Snowflake Obsidian
Want to learn more about this powerful black stone?
In Part 2 read about crystals to combine with Black Obsidian...

When you buy a new stone or crystal, it is advantageous to use it on its own first. Once you are fully aware of its energy, you may choose to combine it with other stones.
Combine stones for short periods to begin with, as individuals may react differently. Knowing how you can combine various stones may be helpful, as this allows you to get the most from your crystals, and may help you to solve specific problems in your life.

Looking For Information About A Specific Crystal?
Did you know you can find out more about any crystal or topic that is written about on this site, simply by using the Google Search box below?