Green Prehnite...
Enhances Precognition and Helps You To Be Prepared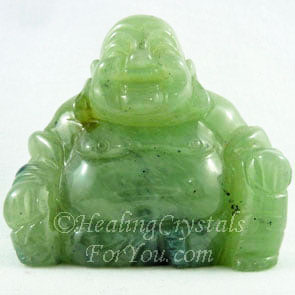 Prehnite Buddha
Home > Healing Properties Of Crystals - O to P > Green Prehnite
Part Two > Part One
Green Prehnite helps you to connect to beings on the higher spiritual planes, and enhances spiritual growth.
This lovely stone has an energy that helps you to be prepared, as it enhances precognition or prior knowledge of an event, and the gift of prophecy.
By its action of linking your heart with your will, by its vibration within the solar plexus, it assists you to live life from a heart based perspective.
It was known in the past as a stone of magic, and this may have been because it so strongly connects you to the Divine Mind. This green stone also assists you to make a connection with elemental beings, who love to be of service to you, if you treat them with respect.
Where Does It Come From?
This crystal has been found in Australia, South Africa, China, Scotland and the USA. It forms in both massive and in a crystalline form, although the crystalline form is less common. 
One of the more commonly seen colors of Prehnite crystal is the green stone, although it may also be white, brown, gray and colorless.
The lovely green pieces of this stone are often yellowish-green, but it may be anywhere from pale green to medium green and even some less common dark green pieces.
In many shops you will see stones selling as New Jade. Many pieces of New Jade are Prehnite, yet they may be other stones such as pale green Aventurine, so you have to be careful.
This is where utilizing a pendulum can help you, as it can aid you to identify the stone, and you can be sure that you are using the stone you wish to use.
Why Would You Use It?
This is a stone that will do many useful things simultaneously, and it is often quite under-rated. Green Prehnite is both a heart chakra and solar plexus chakra stone.
To help you to do the things that you want to achieve, from a heart based perspective, use Green Prehnite.

The solar plexus or power chakra is the seat of the will, and this green stone's action links your heart with your will, and brings you peace and joy, and will help to relieve worry.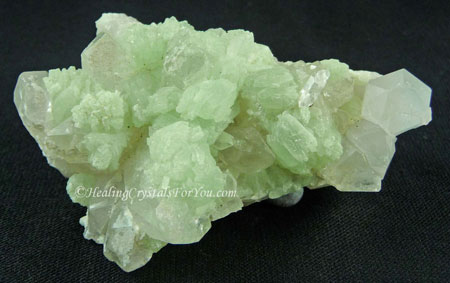 Green Prehnite Cluster
It will help you to learn to be psychic, and it is very useful used in meditation. It is an excellent stone to enhance psychic gifts, and move you to a higher level.

One of its strongest assets is to put you in touch with beings in spirit, up to the level of the Archangels and other celestial beings.
Green Prehnite is specifically known to aid you when connecting with angels and with Archangel Raphael, but it will also help you to contact extra-terrestrial beings and beings in other dimensions.
Regular meditation with this green stone will aid you to develop your intuition and if you already have psychic powers it will help you to be more accurate.
Who Should Use It?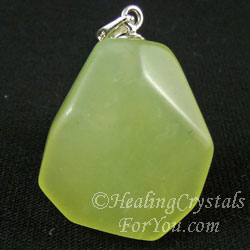 Green Prehnite Pendant
If you are regularly ungrounded this is an excellent stone to keep on you.
It is a strong stone for grounding you spiritually, as it helps you to ground your excess energy down through the earth star chakra to Mother Gaia.
By grounding to the earth you discharge excess spiritual energy and resource yourself.
If you are inclined to hoard 'stuff',  this stone will help you to declutter.
It enhances inner knowing or clairsentience, and it will intensify the development of the gift of prophecy.
It is also known as a stone to aid you to be prepared. This may be because of its propensity to develop precognition, and its ability to prepare you in advance for situations where you have no prior knowledge of.

This green stone supports personal discipline, and it encourages the heart to surrender to Divine will. It seals the auric field so it is very protective during meditation, so keeping a piece on your body may be highly beneficial.
The less than welcome surprises that pop up in life, may be handled better if we are prepared for them, so this stone's gift is truly powerful.
Books For Developing Psychic Gifts
Prehnite Crystals
Sonia Choquette books are excellent aids to help you if you are working on developing psychic gifts, and may also aid your spiritual growth.
In her books Sonia Choquette provides excellent information on how to work with your guides which I found very helpful.
You can read information on writing in your journal and how recording your experiences of the contact with spirit may help you.
To read reviews of Sonia Choquette's books Click Here.
See Sonia Choquette Books At Amazon...
More Photos Of Prehnite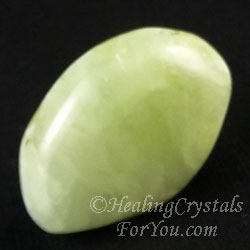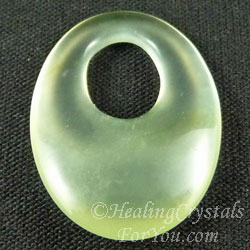 ---
---
When you buy a new stone or crystal, it is advantageous to use it on its own first. Once you are fully aware of its energy, you may choose to combine it with other stones.
Combine stones for short periods to begin with, as individuals may react differently. Knowing how you can combine various stones may be helpful, as this allows you to get the most from your crystals, and may help you to solve specific problems in your life.

Looking For Information About A Specific Crystal?
Did you know you can find out more about any crystal or topic that is written about on this site, simply by using the Google Search box below?