Pudding Stone
Boosts Dream Recall & Imagination
➤ Written By Liz Oakes
Pudding Stone are beneficial healing crystals for you to use if you need help with allergy, pain relief or stress and anxiety. 
They are useful healing stones that also heighten imaginative thinking, and their vibration may also help you to think more clearly. 
They resonate at the crown chakra and may be used in meditation to boost spiritual growth and may also assist you to recall your dreams.
These stones contain a mix of minerals and this combined energy may increase creative original thinking in your day to day life. 
---
Healing-Crystals-For-You.com is reader-supported. When you buy through links on my site, I may earn an affiliate commission. Click to learn more.

Where Is It From? Pudding Stone Meaning
Pudding Stone is a what is known as a conglomerate stone, meaning that it is a mixture of various minerals. While this varies it may include jasper, sandstone, chert and quartz crystal.
They are often found in waterways or rivers where they have naturally tumbled, giving them a natural shiny finish. 
It may also be spelled as one word, Puddingstone so look for that at crystal sellers. It is common for there to be easily seen pebbles of various colors in the stone
The meaning of their name comes from when they were first seen by settlers in South Dakota in the United States in the 1840's, who found pieces of these lovely bright stones.
They thought they looked like a pudding that had pieces of colored fruit in it as they are often brightly colored, with the included pebbles being quite easy to see.
These colored inclusions are sometimes embedded in a lighter colored matrix, which is often quartz crystal but can be some sort of concretion stone. 
Why Would You Use It? Dream Recall
Using this stone may assist you to remember your dreams, so if you are using it for this purpose it may be helpful for you to have a notebook next to the bed.
This way, when you wake up you can write down the details of the dreams that you have experienced.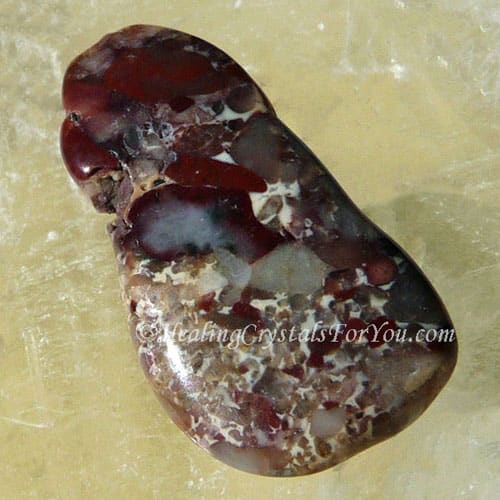 Pudding stone also called Puddingstone
This energy may also help you to take notice of important dream aspects and to experience dreams where you receive answers to problems, so keep that in mind before you go to bed at night.
While it is helpful to aid you to recall dreams, it may also assist you to be more aware of significant details that come to light in this manner. 
While recording your dreams, keep in mind any dream occurrences that may be of particular significance to your life.
How Will It Help You?
Puddingstone has a good energy within the crown chakra, a highly spiritual area, that is known to stimulate spiritual healing.
It may help you if you are doing astral travel, aiding you to come back safely. 
Use it at the crown chakra to boost your imagination, and to assist you to have greater mental clarity.  It may also help to remove negativity from your aura.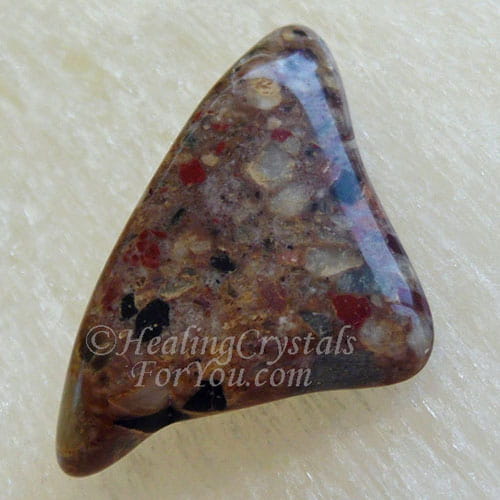 Also spelled Puddingstone
This is a good stone to use in your daily meditation, and it has a strong action within the crown chakra to assist your spiritual growth and may aid spiritual healing.
If you feel that you need to discover ways to remedy situations in your life that you feel are unfair or not in your best interests in some way, use this stone in meditation to help you to find the answer.
While using it in meditation it may also assist you to remember dreams that were given to you, to help you to solve life issues.

Healing Properties & My Final Thoughts
The healing properties of crystals like these are known to help those with allergies.
Puddingstone is said to be beneficial to use these crystals when you have health issues that are expected to get worse.
They are also known to help to relieve pain, but it does depend on exactly which minerals are included in the piece of this stone that you have, as they are a conglomerate stone as mentioned above.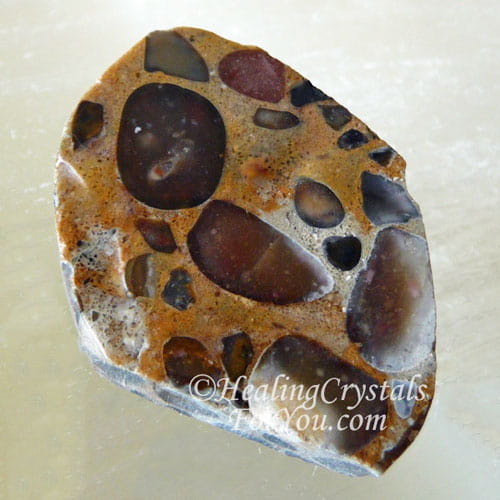 Pudding stone
They have a good energy to help to relieve stress and anxiety and you may find that keeping a piece on your body at times when you are stressed may be beneficial.
While it may help you to remain calm at stressful times, don't wait to be stressed. If you believe that the day ahead might bring stressful or challenging situations, use it at those times.
You may be aided to recognize that it may be helpful to let go of old ways of thinking when your thoughts are making you feel depressed and anxious.
In summary: Using it in meditation will help you in a number of ways. It may be beneficial to use it to boost imagination and clarity in your thinking, as well as helping you to recall your dreams.
Best Crystals To Use With Puddingstone
What are the best crystals to use with Pudding Stone?
There are a number below that combine well with them. These stones are known for their action to assist you to think more clearly.
But if you specifically feel the need for increased mental clarity, combine them with other stones that will assist you to think more clearly.
This includes stones such as Crazy Lace Agate, Mariposite, Skye Marble or Turquoise.
To assist you if you need to boost your imagination, combine this stones with other stones that also stimulate imaginative ideas.
Specific stones for imagination that might be helpful to use with it includes Pietersite, Citrine, Pyrite or Lapis Lazuli.
If you find it difficult to get into the meditative state, use it with other stones that are known to ease you into the meditative state more quickly, including Mordenite, Trolleite, Mariposite, Stilbite or Prehnite.
For those of you who are having issues with allergies, there are a number of other stones that are known for their energy to assist you with dealing better with your allergy.
This includes Purple Scapolite, Spessartine Garnet, Hyalite Opal, Polychrome Jasper and Black Tourmaline, which may be used with Pudding Stone.
These stones are known to be beneficial to assist with pain relief, but if your pain is concerning you, it may be advantageous to use them in combination with other stones that are said to give relief from pain.
This includes well known stones such as Black Tourmaline, Emerald, Jet, Blue Calcite or Spessartine Garnet. 
More Pictures Of Puddingstone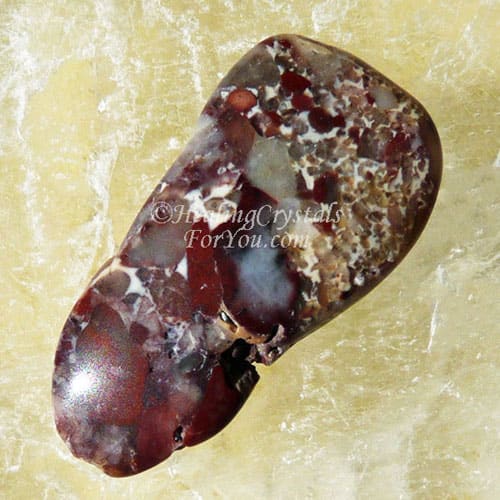 Pudding stone also called Puddingstone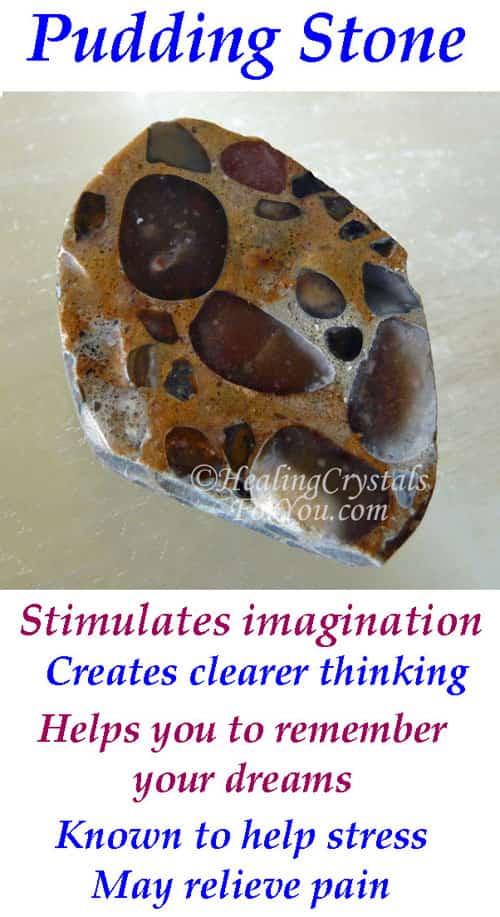 Pudding Stone
---
 Want to join my regular newsletter? It's easy.

Simply click on the banner that comes across the screen!
---
Looking for information about a specific crystal?

To See The A-Z of Crystals Minerals and Stones Click Here
If are looking for crystals for a specific purpose, there is an area you may like to check out here, Healing Crystal Uses. It lists individual articles about stones to use for a particular reason.
---
Note: When you use the vibration of crystals to help and support your healing remember that crystals are part of an holistic approach to your health.
Metaphysical healing uses universal energy so does not stand alone and can be used with any other type of healing. 
Using the energy of crystals for healing yourself is about finding a way to enhance conventional medicine not replace it. So always seek out medical treatment for any worrying health issue.
---
---
Don't Know Which Book About Crystals To Buy?
Read reviews of best crystal books here
---
Thank You! I Appreciate Your Visiting My Site!
In my articles I may recommend various items that I use and love or that I feel are of value to my readers, and I earn a commission for purchases made through links on this page. 
FTC Disclosure:  If you make a purchase via a link on this site, I may receive a small commission on the transaction: at no added cost to you. Thank you!
Read My Affiliate Disclosure Here

Please Read Copyright And Disclaimer Notice
For: https://www.healing-crystals-for-you.com/
Any information that may be found anywhere on this site is not presented as a substitute, nor intended to be a substitute for medical advice, treatment or diagnosis.
Never disregard advice from your medical professional or delay seeking medical advice because of anything you may have read on Healing-Crystals-For-You.com.