Purpurite
Speak Confidently, Heal With Violet Ray
➤ Written By Liz Oakes
Purpurite is a purple stone that encourages you to feel free to speak out. It embodies within it the violet flame energy, which is highly spiritual in nature.
If you have any issues related to real estate sales its energy may benefit you.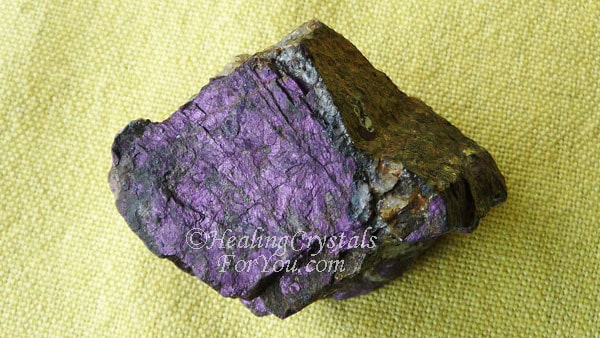 This lovely stone helps you to have a greater degree of confidence in your ability to verbalize your thoughts clearly, and with total lack of obstruction.
This energy also has powerful healing abilities, and offers strong psychic protection.
This stone has strong metaphysical properties, and is an excellent stone to help with stress. If you have been aware of any self-destructive situations, that may be limiting your personal growth, this stone helps to clear these problems.
---
Healing-Crystals-For-You.com is reader-supported. When you buy through links on my site, I may earn an affiliate commission. Click Here to learn more.

---
Where Is It From? Purpurite Meaning
The meaning of its name comes from the Latin word 'purpura' which means purple.
This beautiful purple stone has been found in Australia, Namibia, France, and the United States.
Its color is purple, and although it is usually quite a deep purple, some pieces may be pinkish or lavender purple.
Purpurite mineral is a manganese phosphate mineral and its color is caused by various amounts of manganese and iron in the stones.
This mineral is not crystalline in nature, but has a massive form, with the raw stone having a matte finish, although they can be polished up to make nice jewelry.
Most of the stone selling is natural rough pieces but you can also get tumblestones and polished pieces including Purpurite pendants and other jewelry.
Although this stone is not a very common stone and has been classified as a rare mineral you can buy it from good crystal suppliers.
I have seen it selling quite a lot lately, so possibly new deposits may have been discovered.

Brings Confidence, Freedom & Clarity of Speech
This purple crystals stimulates highly spiritual energies of clarity and insight, sharp focus and encourages the growth of courtesy and tactfulness of those involved.
So the energy of any group situation may be improved by using this beautiful purple stone.
Purpurite Tumblestone
How will this purple crystal stimulate confidence, feelings of freedom and aid clarity of speech? There are a number of ways that it can help you including:

If you are doing public speaking this stone will benefit you, as it encourages your thoughts to be clear and focused.
It helps you to deliver the information that others require, and to speak with confidence.

It aids compromise, and helps the thinker to avoid the deceptions of others.
It may create a feeling of accord with those you are speaking to.
It is known to bring spiritual information through to you where needed.
Purpurite crystals may open the crown chakra as well as open the eighth chakra above that, and link them down to the base or root chakra.
Many people who use it find that after they have been using it for some time, it may take you higher, to the soul star chakra and the higher transpersonal chakras, where it is said to aid enlightenment.

Healing Properties: Violet Flame Energy
This is one of the strongest and purest stones and embodies the vibration of the violet ray.
It carries within it the energy of the violet flame, and brings a strong serenity and deep peacefulness to your meditation with it.
This energy makes it one of the excellent ways to let go of stress, and it may be helpful to keep it on you if you are feeling anxious or stressed.
Its energy resonates most strongly at the crown chakra, and will ground you back to the earth after meditation.
Buy Purpurite from Exquisite Crystals, my most trusted crystal seller.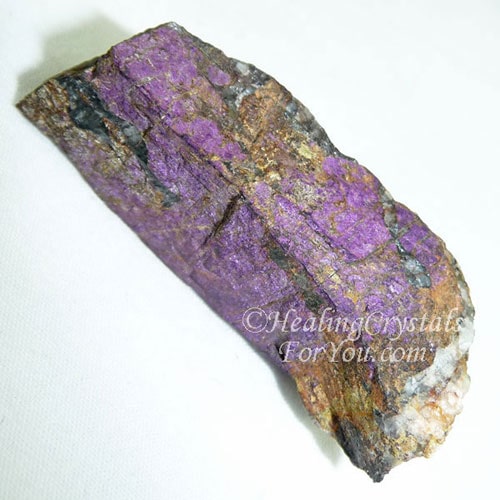 Raw Purpurite
There are a number of healing properties specifically related to this purple mineral.
Its energy is known to assist the healing of superficial wounds as well as aiding bruising and hemorrhages.
It is said to have a good action to assist blood related conditions, and is said to aid the transportation of blood within the heart and lungs and may purify the blood.
It is purported to assist with the control of uric acid levels in the body and to stabilize the pulse when required.

Helps You To Verbalize Your Thoughts Clearly
Purpurite are good crystals for communication as they stimulates you to feel confident when you speak. 
They support you to have faith in your abilities to verbalize your thoughts clearly, with no obstacles being put in your way.
They have sound metaphysical properties, fostering energy of a spiritual nature, and bringing focus, clarity, insight and accord with those listening.
Their loving and serene energy helps to relieve stress and allows you to become aligned with the Divine source of all that is, and to function with grace and harmony.
This may also help you to break old patterns. Sometimes you are so used to your life, and the way you live, that you stay with what you perceive as security. 
This may be in your job or in your relationships, even when you know intuitively that you might be better to move on.
This purple stone will help you to make choices, about when it is time to take that new exciting path, and when to make the choice to stay put where you are.
This stone is an excellent aid when contacting angels.
It will also help you to make a strong connection that may help you to find and communicate with your spirit guide.
Once that is achieved, Purpurite will allow you to hear what your spirit guides are communicating to you with more accuracy and quite distinctly.

Why Would You Use It? How To Use It
Why would you use Purpurite? There are a number of reasons including:
The highest use for these lovely purple stones is to use it in meditation. 
Used at the third eye chakra, it will encourage you to 'see' with your inner eye, what the spiritual meaning is behind what has been happening in your life.
It helps you to be able to perceive when others are speaking the truth to you, so it is a beneficial crystal for tarot readers or if you are in any other type of psychic employment.

It helps you to act in total integrity, and to use your gifts and abilities for the good of others.

It is also a strong stone to ground you spiritually. 
Their energy  is helpful as many of you may find that using the stones for the higher chakras can leave one feeling spaced out and ungrounded.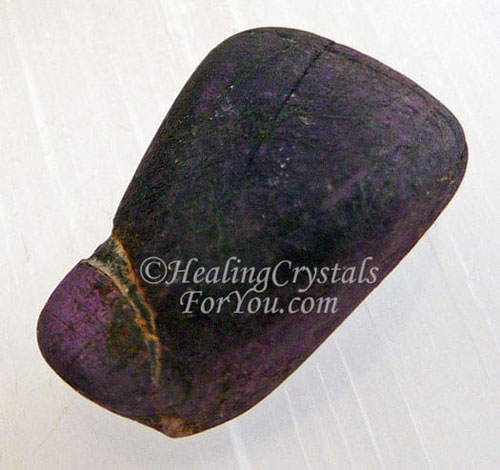 Another asset of this stone when using it when you are doing meditation, is that it is a powerful stone for psychic protection. 
So it ensures that when you link to your guides or any spiritual beings, that they are of 'the Light'.
Wearing Purpurite
This stone has a calming vibration that will help to relieve stress so this is another advantage to keeping it within your auric field. 
It does not form crystals, but it is a very attractive color, and while it is not common, some jewelry is made from the stone.
Many Purpurite stones carry a light sheen, and these are made into lovely pendants. If you are unable to get jewelry, having a piece of this stone on your body is beneficial.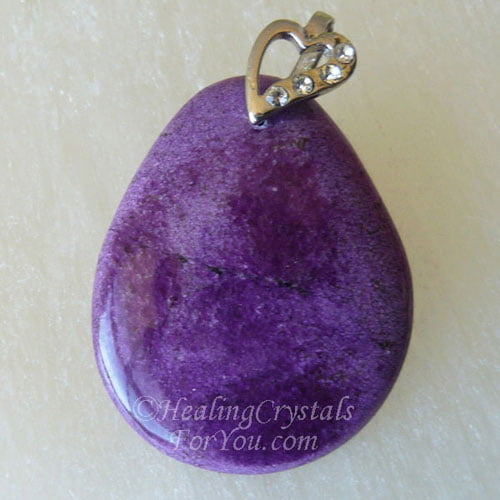 Purpurite Pendant
Keeping a piece under the pillow at night is helpful if you wish to experience astral travel.
The metaphysical properties of these stones are also related to its action to support you to separate your astral body from your physical body, and to remain fully aware as you complete the process.
It is said to allow contact with angelic beings and with your own spirit guides who may be present at these times.
Use To Help House Sales
This stone may aid you to avoid frustration if you are selling your home. It carries within it an energy that will help to remedy any conflicts that may be preventing the sale of the home.
This may be particularly important if the problem is linked to past life conflicts. The energy of Purpurite is highly ethical in nature. 
Purpurite Stone
The warning here is that this will only work if the situation is for the highest good of all involved.
Any type of misuse of this stone is not possible, as it carries an energy that will turn the vibration around if you try to misuse its power. 
It will lift any negativity from the environment, that might be holding back the facilitation of the sale going through to completion.
It is powerful to remove any 'curses' or negative energy that has been deliberately added into the situation to prevent a sale happening.
If there are group energies involved in the sale, it will calm the situation and allow the flow of normal energy to happen, and encourage compromise and agreement.
Books Relating To Psychic Development
Reading books written by Sonia Choquette may be beneficial to help you if you want to develop your psychic abilities, including learning to use your intuition better.
Sonia is well known for what she does, both as a teacher in aiding people to develop their psychic gifts.
She is also for her work in psychic employment as a reader for a number of years.
You can read the story of how Sonia developed her own gifts, by reading her book 'Diary of a Psychic'. 
I have enjoyed many of her spiritually based books, including her book that helps you to find your spirit guide... "Ask Your Guides".
Click Here, to read reviews of Sonia Choquette's books. Her books give you help with developing your own gifts, and may assist you to make contact with your spirit guides.
Best Crystals To Use With Purpurite
What are the best crystals to combine with Purpurite?
Some of the more powerful stones to combine this stone with are the other violet flame stones. 
Sugilite, Violet Flame Opal, Amethyst Crystals and Tanzanite are violet flame stones, so will benefit you by being combined with this stone.
This will strengthen the violet flame energy, and these are potent when combined to be used for spiritual healing.
Combined with Golden Yellow Labradorite or Heliodor, it may strengthen your use of this stone to direct your personal energy, and use it with Zincite or Pietersite to resolve issues related to personal power.
Use it with Unakite, Hematite, both Purple and Black Amethyst, Dumortierite, Astrophyllite  or Black Obsidian, to aid this stones energy to help you to beat addictions.
Using it with Lilac Lepidolite, Amegreen, Uvarovite Garnet or Charoite, especially if the piece you use has a more pinkish purple color, as this may bring its energy through to be utilized at within the heart chakra more fully.

Its action to assist grounding may also be helped by combining it with strong grounding stones, including Black Tourmaline, Augite, Jet, Black Obsidian or Hematite.
Pictures Of Purpurite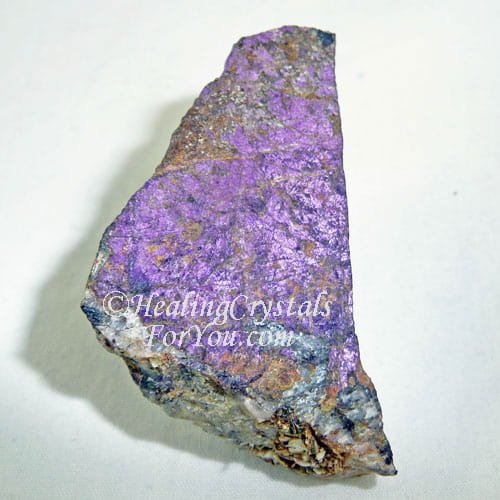 Bright purple Purpurite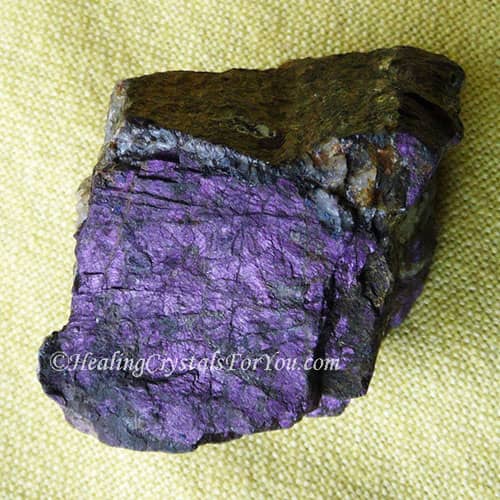 ---
Want to join my regular newsletter? It's easy.
Click on the banner that comes across the screen!
---
Looking for information about a specific crystal?

To See The A-Z of Crystals Minerals and Stones Click Here
If are looking for crystals for a specific purpose, there is an area you may like to check out here, Healing Crystal Uses. It lists individual articles about stones to use for a particular reason.
Discover more here about Psychic Gifts, Meditation and Spirituality
---
Note: When you use the vibration of crystals to help and support your healing remember that crystals are part of an holistic approach to your health.
Metaphysical healing uses universal energy so does not stand alone and can be used with any other type of healing. 
Using the energy of crystals for healing yourself is about finding a way to enhance conventional medicine not replace it. So always seek out medical treatment for any worrying health issue.
---
Thank You! I Appreciate Your Visiting My Site!
In my articles I may recommend various items that I use and love or that I feel are of value to my readers, and I earn a commission for purchases made through links on this page. 
FTC Disclosure:  If you make a purchase via a link on this site, I may receive a small commission on the transaction: at no added cost to you. Thank you!
Read My Affiliate Disclosure Here

---
Please Read Copyright And Disclaimer Notice
For: https://www.healing-crystals-for-you.com/
Any information that may be found anywhere on this site is not presented as a substitute, nor intended to be a substitute for medical advice, treatment or diagnosis.
Never disregard advice from your medical professional or delay seeking medical advice because of anything you may have read on Healing-Crystals-For-You.com.