Powellite Crystals

Boost Creativity & Help You To Get Things Done

➤ Written By Liz Oakes
Powellite are excellent stones to stimulate your creative gifts, and are known to be specifically helpful for artists to use. 
They help you to get tasks completed by their capacity to boost staying power.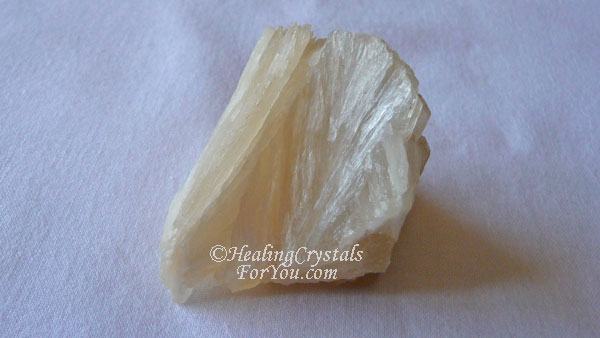 If you have trouble getting things done, the energy of these stones may help you to get the job finished in a timely manner.
Their action helps to bring others around to your way of thinking in order to create a better outcome.
For those working on humanitarian pursuits, their vibration may help you to more easily achieve what you are working towards.
They bring like minded people together for the purpose of creating a favorable result.
These crystals have worthwhile healing properties and are particularly useful to assist health issues relating to children including autism.
---
Healing-Crystals-For-You.com is reader-supported. When you buy through links on my site, I may earn an affiliate commission. Click to learn more.

Crystal Tip: Powellite crystals are particularly beneficial to meditate with, as they help you to make a faster and deeper connection to the Divine due to their vibration within the crown chakra.
Where Is It From? Meaning Of Powellite

The meaning of their name relates to the American geologist and explorer John Wesley Powell, after whom they were named.
Powell was a director of the United States Geological Survey in the 1800's. They were first discovered in Idaho in the United States and later in the Atacama area of Chile.
These quite lovely crystals are not particularly common, but are now easier to obtain as deposits of Powellite have recently been found in India where quite beautiful pieces have been uncovered.
Powellite
They may be found in the massive form as well as rare tabular crystals or as tetragonal pyramid like stones.
Depending on the structure of the stones they may be found as gemstones, but this is not common.
They often have a pearly lustre and their color is commonly white, colorless, straw yellow, greenish-yellow, grey, brown, blue-black or black.

They may be found in combination with a number of other minerals and this may have an effect on their color, depending on what they are combined with.

Minerals that they are known to be found with includes Calcite, Brochantite, Scolecite, Stilbite,  Scheelite, Laumontite, Apophyllite and Quartz as well as some lesser known minerals.
 How To Use It: Why Would You Use It?
Because they have a strong energy within the crown chakra, they are highly beneficial to assist you to make a stronger and more profound connection to Spirit.
These lovely stones have useful metaphysical properties that may benefit you when used in your daily meditation.
You can either use them alone or combined with other crystals that you have been working with.
They help to create greater spiritual clarity and may assist you to go deeper into the meditative state which can assist you to get more out of your meditation.
Exquisite Crystals, my most trusted source for buying crystals has many beautiful stones.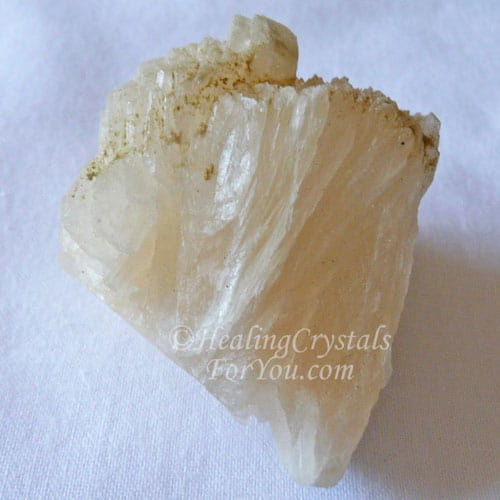 Powellite
If you are working on a project that you are having trouble getting finished, their energy can assist you to keep going until you have got the job done.
They help to increase your staying power, to aid you to keep going and recover more quickly when you are doing more than usual.
The vibration of Powellite crystals may also attract the help of other people who also have a desire to accomplish similar results to what you wish to achieve.
This is particularly the case when you are working towards a specific humanitarian cause.
They may be useful for those doing talks or public speaking where their energy is helpful to be able to convince others of the value of the outcome that you are discussing.
Who Should Use It? Wearing This Crystal
Wearing these crystals may be highly beneficial if you have a need to particularly complete tasks that you have been working towards getting done.
If your work relates to humanitarian activities, keeping a stone on your body may help to bring support to your project from others with the same interests.
Powellite Pendant
For those of you who are artists or if you are working in any type of position that requires creative thinking, having a piece either on you or close at hand may be advantageous.
Their vibration will help to enhance your creativity, and this applies to any type of work in a creative field, including those whose work is writing.

While jewelry made from this stone is not common, it is possible to get it from specialist crystal suppliers.
Of course an alternative is to keep a piece of the stone in your pocket or get a macrame crystals holder so you can wear it with ease.
It's easy to buy a macrame crystal holder, just make sure you get one with a bead at the top so you can change the stone when you decide to work with something different.
How Will It Help You? Healing Attributes

Theses stones are said to assist those who are particularly trying to deal with health issues that cause physical restrictions.
They are known to aid you to work towards getting control of impediments to living a less limited lifestyle.
They may also assist with weight loss by assisting  you to release fatty layers in the body.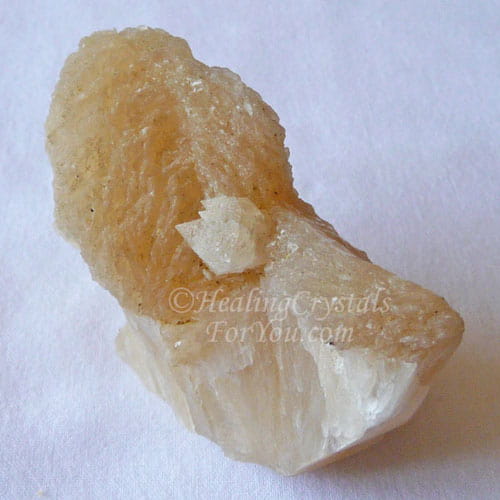 These crystals are useful healing crystals that may specifically help children who have autism.
They are also known to be beneficial to soothe teenagers who are having emotional issues while going through puberty,  as well as helping their physical problems.
Best Crystals To Use With Powellite
What are the best crystals to combine with Powellite?

If you want to create a deeper connection during meditation it may be of value to combine this stone with other crystals that will help you to go deeper into inner awareness.
Some of the stones that will assist you to go deeper includes high vibration stones, such as Kyanite, Phenacite, Nirvana Quartz or Stellar Beam Calcite.
There are a number of other helpful stones that you might like to use with this stone that help to take you deeper.
This includes Mt Hay Thunderegg, Picasso Marble also called Picasso Jasper, Mariposite or Prehnite.
If you are particularly working to enhance your creativity,  you may find it advantageous to use it with other stones that stimulate creative gifts.

Stones such as Triplite, Citrine, Tantalite, Sunstone, Picasso Marble, Iolite Sunstone, Orange Calcite, Golden Yellow Apatite, Amber or Carnelian may be helpful for this purpose.
If you have a particular need to boost your staying power, use Powellite with red garnets such as Almandine or red Spessartine Garnet, Peridot or Rubellite.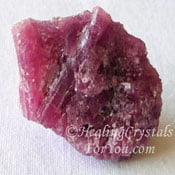 Rubellite
Crystals that also boost spiritual clarity may be advantageous to use with this stone. This includes Ametrine, Selenite and Nirvana Quartz.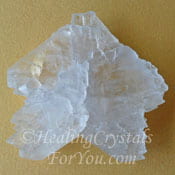 Selenite
There are a number of powerful crown chakra stones that you may choose to use with this stone to stimulate its action to boost your spirituality.
Stones that you may choose includes Selenite, Clear Quartz, Diaspore, Beryllonite or Montebrasite.
Pictures Of Powellite
---
Want to join my regular newsletter? It's easy.
Click on the banner that comes across the screen!
---
Looking for information about a specific crystal?

---
Note: When you use the vibration of crystals to help and support your healing remember that crystals are part of an holistic approach to your health.
Metaphysical healing uses universal energy so does not stand alone and can be used with any other type of healing. 
Using the energy of crystals for healing yourself is about finding a way to enhance conventional medicine not replace it. So always seek out medical treatment for any worrying health issue.
---
Don't Know Which Book About Crystals To Buy?
Read reviews of crystal books here
---
Thank You! I Appreciate Your Visiting My Site!
In my articles I may recommend various items that I use and love or that I feel are of value to my readers, and I earn a commission for purchases made through links on this page. 
FTC Disclosure:  If you make a purchase via a link on this site, I may receive a small commission on the transaction: at no added cost to you. Thank you!
Read My Affiliate Disclosure Here

Please Read Copyright And Disclaimer Notice
For: https://www.healing-crystals-for-you.com/
Any information that may be found anywhere on this site is not presented as a substitute, nor intended to be a substitute for medical advice, treatment or diagnosis.
Never disregard advice from your medical professional or delay seeking medical advice because of anything you may have read on Healing-Crystals-For-You.com.