Pargasite

Eases Stress & Depression, Aids Happiness!
Pargasite is known as a stone of love and compassion, that will help you to be able to love yourself more easily. Its energy is quite relaxing so keep a piece on your body for as long as possible. 
It has a lovely calming vibration that resonates within the higher heart, heart  and solar plexus chakras. When you hold a piece of this stone, you can feel its vibration helping you to feel calmer.
Pargasite
Using it is one of the ways to relieve your stress and it may help you to let go of depression. The energy will slowly aid you to release negativity that may cause you to be unhappy or glum. 
Although it does not work fast, the healing properties of crystals like these will work to help you to feel calmer.
FTC Disclosure: As an Amazon Associate I earn from qualifying purchases. Other links or banners on this page may lead to other companies that I'm associated with.
Where Is It From? Pargasite Meaning
The name of this stone relates to the location Pargas in Finland, where it was found back in 1814.

While it is found in a number of other places these days, large amounts have recently been mined in Vietnam.
Other locations where it is found includes Tanzania, Japan, Burma, Pakistan, Hawaii and a number of other locations in the USA.

This crystal is a member of the amphibole group of minerals, and forms as lovely transparent to translucent prismatic or tabular crystals, as well as in the massive form and as platy or grainy  crystals.
The lovely apple green crystals embedded in marble are now easier to buy, since large amounts started to come out of Vietnam.
Prior to when larger amounts of the green minerals started to come out of Vietnam, the light brown, medium brown, greenish brown, very dark green or black colored crystals were much more common.   
Green Pargasite
Green crystals from Vietnam are often found in combination in the same stone along with Red Spinel, and most occur in bright white marble.
Ruby and Zoisite stone that comes from Tanzania is known to occur in combination with Black Pargasite crystals.
Why Would You Use It? How Will It Help You?

This is a stone that has good metaphysical properties that help you when situations occur that make you feel afraid.
They help to release negativity and have a good action to help you to release stress and tension around the circumstances that may be happening.

Green Pargasite In White Marble
The energy of the higher heart relates to feelings of love and compassion and forgiveness of yourself and others, and this stone has a strong resonance to aid emotional healing.
The vibration of this stone resonates strongly within the both the heart chakra and the thymus or higher heart chakra. This stones healing properties also relate to the areas surrounding the heart.
It is known to aid health issues in the area surrounding the higher heart including the throat, heart and the area of the lungs, including respiration.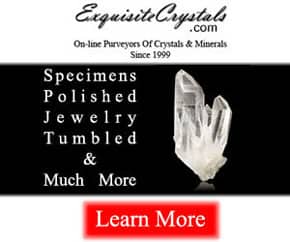 The yellow green stones also resonate within the solar plexus chakra also called the power chakra as this is  the chakra that is related to your personal power.
This area of the body aids the growth of feelings of self esteem, self worth, clarity and creativity.
These stones also stimulate feelings of happiness and help there to be an influx of positive emotions filling your life.
These stones do not work quickly, and you will need to be patient as they take time to take effect.
Pargasite In White marble
Combining It With Other Stones
These stones help you to experience feelings of love and compassion, due to their strong resonance within the higher heart chakra.
If you wish to stimulate feelings of love and compassion you may choose to use them with other higher heart chakra stones.
There are a few crystals you could choose including stones such as the lovely Rose Quartz, Dioptase,  Tugtupite or Morganite.

If you are suffering from stress there are a number of excellent stones that you can use to help you and these are listed in my article on ways to relieve stress.
While there are a large number of stones that you could choose, my particular favorites include Scolecite, Howlite, Mangano Calcite or Diaspore.
There are a large number of other crystals that you can use to stimulate feelings of happiness, and you may benefit by combining this stone with other crystals to aid happiness.
Some of my favorite stones that boost feeling of happiness include the lovely green Peridot, Citrine, Blue Euclase and Bustamite.

Pictures Of Green & Black Pargasite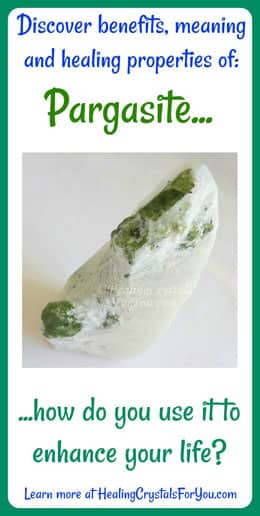 Pargasite
Re: My Suggested Books... Thank You!
In my articles I recommend various items that I use and love and feel are of value to my readers.  If you buy something by clicking on one of those links I receive a small commission.
 There is no additional cost to you, you pay the same price. Read my Affiliate Disclosure.
Thank you very much to everyone who uses my affiliate links when you shop. Its how I keep this site running and I truly appreciate your support.
---
---