Labradorite Crystal...

Want To Awaken Your Magical Powers?
Labradorite Earrings
Home > Stone Properties - J to L > Labradorite Crystal
Part Two > Part One
Labradorite Crystal is a stone of magic, awakening within you mystical and magical abilities and psychic powers.
It has within it a deeply felt resonance that is very powerful, and it can be used to bring amazing changes to your life.
It vibration also holds a broad level of protection from negativity, so it cannot be used for ill will. This is a stone whose energy is quite visible to the user, as it just seems to work so quickly.
Wearing it just seems to charge you with a sense of excitement and adventure, to take the steps required to go where you have not gone before!
Where Is It From? Labradorite Meaning
The meaning of this stone comes from the location in which it was first found, as it was named after Labrador in Canada. It is also found in Finland, Greenland, Scandinavia, Russia, Italy, Madagascar, Mexico and the USA. The Finnish stone is called Spectrolite, and is slightly different as it exhibits the full range of colors.
There is a clear yellow variety called Golden Yellow Labradorite and although it is commonly known by this name, it does not exhibit any of the play of colors common to others in the family.
The yellowish stone that does have labradorescence is quite unusual and may be called Fire Labradorite, and is available as jewelry that is very beautiful and quite unusual.
The normal Labradorite stone is commonly blue, blue-green, lavender-blue, or yellowish, and can even be pink or purple. They commonly display a mixture of these colors within the stone, with the beautiful labradorescence, this play of amazing colors, throughout these stones. 
A Stone Of Magic... Serendipity and Synchronicity
In the past this lovely stone was known as a stone for magic, because it was clear that those who used it had access to a range of abilities that seemed almost magical. 
Perhaps this is partly because the beautiful Labradorite Crystal brings you the gift of serendipity and synchronicity. These two things combined can make amazing things happen in your life. Those little coincidences, where you are in the right place at just the right time, just seem to occur more often once you begin to use this stone. 
Labradorite Sphere
It has a number of interesting metaphysical properties, including its action to protect your aura, and to clear negativity from it, and it seals it to prevent any energy leaks. If you have been doing too much and need a recharge, it will give energy to you. 
Within the throat chakra it stimulates stronger psychic communication abilities, which you may utilize in a range of different ways. Have you have been wondering if you have any psychic abilities, but you are not quite sure how to start the process to develop them?
You may find that any gifts that are waiting to develop may begin to manifest, as you make better connections.
You may learn how to be psychic once you begin to use a Labradorite Crystal.

You may choose to place a piece under your pillow at night.
This allows its energy to be present within your aura for an extended period of time each day.
An alternative is to wear Labradorite jewelry, and this is a quite lovely stone that also makes beautiful pendants, rings and earrings.
Wearing Labradorite ... How To Use It
These stunning stones are on the zodiac birthstones list and its easy to get jewelry made from this stone. Wearing a Labradorite ring may be beneficial if you are a healer who uses your hands to send energy.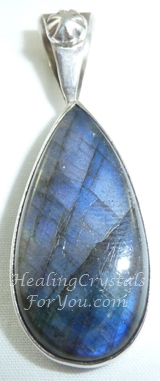 Blue Labradorite Pendant
If you are a Reiki practitioner, it will boost the sending of energy from your hands.
Wearing a piece of this stone like the lovely earrings shown in the image at the top of the page, may stimulate the development of the gift of psychic hearing.
This psychic gift is commonly known as clairaudience, and will also help you to develop telepathic gifts. Lovely Labradorite earrings are beneficial crystals to wear. 
This is because these gifts are birthed from within both the throat chakra and the third eye chakra, so having them present in that area for periods of time will be stimulating to both of those chakras.
This is a stone whose energy is quite visible to the user, as it just seems to work so quickly. To enhance the possibilities inherent in the stone, keep it as high as possible on your body.
These lovely crystals are a Scorpio, Leo and Sagittarius birthstone, so it is possible to buy Labradorite jewelry quite easily.
Wearing Labradorite Crystal jewelry is a powerful way to use this stone as having it within your aura will stimulate the birth of many psychic gifts.
Who Should Use It?
If you have been working on ways to develop your intuitive abilities, by adding Labradorite you may be empowered to transform the intuitive messages you receive into thoughts.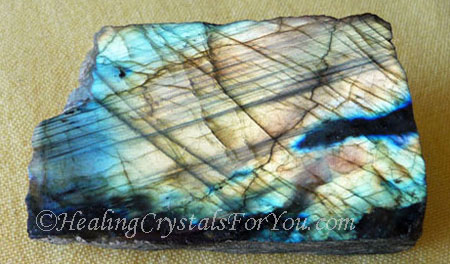 Gold Flash Labradorite
As you open your crown chakra and allow direct contact with the Divine Mind, you will begin to be aware that you are getting direct messages from Spirit.
Wearing Labradorite, such as lovely crystal jewelry helps you to understand your destiny, that path that you chose before you came here to the earth plane.
This crystal aids serendipity, coincidence and synchronicity to flow in your life. It also aids you to let go of thoughts that may impede you from taking action on those things that you are inspired to do.
Yet by its strength of fostering a more patient attitude, it allows you to recognize within intuitive thought, the correct timing for taking action.
It will assist you to make contact with beings from other dimensions that may assist your journey, and allow you to get done those things that are important in your journey. You may choose to do daily journaling, as this may help you to develop the gift of automatic writing.
Once you begin to receive this written communication directly from spirit, you may also find that you experience the gift of claircognizance or psychic knowing.
Once this gift becomes stronger, these thoughts will more clearly provide you with information to allow you to more easily take action, in alignment with Divine inspiration.
---
---
More Pictures Of Labradorite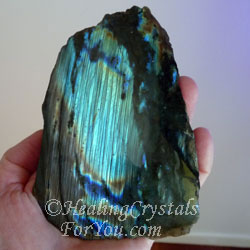 Gold Flash Labradorite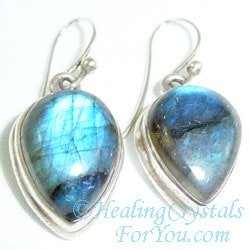 Labradorite Earrings
---
---
When you buy a new stone or crystal, it is advantageous to use it on its own first. Once you are fully aware of its energy, you may choose to combine it with other stones.
Combine stones for short periods to begin with, as individuals may react differently. Knowing how you can combine various stones may be helpful, as this allows you to get the most from your crystals, and may help you to solve specific problems in your life.

Looking For Information About A Specific Crystal?
Did you know you can find out more about any crystal or topic that is written about on this site, simply by using the Google Search box below?