Hypersthene

Find Answers, Boost Psychic Gifts
➤ Written By Liz Oakes
Hypersthene energy helps to boost psychic gifts and are also known as magical stones as they help you to find solutions to problems quickly.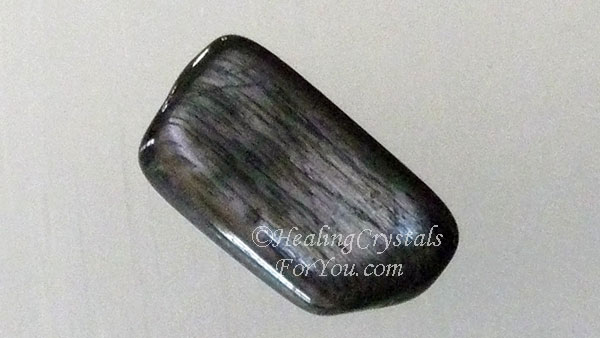 They embody a useful vibration that may especially help the opening of clairaudience and clairvoyance or psychic visions.

Their powers may particularly assist you when you are searching for answers to important questions.

Use them while considering what you desire in your life, to aid you to strengthen your ability to manifest your intentions.
They also have excellent attributes for assisting healing, and have metaphysical properties that make it advantageous to use them in meditation. 
Their energy may soothe you if you feel stressed or anxious or if you are tired and need to relax.
---
Healing-Crystals-For-You.com is reader-supported. When you buy through links on my site, I may earn an affiliate commission. Click to learn more.

Where Is It From? Hypersthene Meaning
Hypersthene is in the same family as Bronzite, and is a member of the pyroxene family.
It was named in 1804, and its name is said to come from two Greek words "hyper" meaning above and "stonos" meaning power, and overall the meaning is "over strength".
This was related to the fact that when it was discovered it was confused with Amphibole, but as it was harder it was named to show that fact.
This stone contains both iron and magnesium in various amounts along with other minerals such as silicon, depending on the specimen.
It is also known as Enstatite, Ferrosilite and Eulite, but according to mineral sources there is no iron in pure Enstatite and no magnesium in pure Ferrosilite.
Because of this the name of this stone was changed, and it is now known as Orthopyroxene, but I prefer to stick to the name Hypersthene as it makes it easier for you to purchase pieces as this is what it is generally called in shops.
Hypersthene Slab
These stones are found in various parts of North America such as Canada and the United States.
In addition they are found in some European countries including Norway, Sweden, the Czech Republic and Greenland, Australia and New Zealand.
They are predominantly found in the massive form and less commonly as prismatic crystals. These stones have unusual optical properties.
Depending on the direction they are looked at they may show different colors. When you hold them in your hand and move them you will see the various colors within the stones.
Their color is commonly a deep brown, with lovely shimmering lighter colors through the stone. They may also be slightly lighter brown, green, black or gray.
Their color may depend on how you look at the stone. They are unusual looking stones that can be hard to photograph due to the unique optical quality of the stones.
This is a similar idea to looking at the colors in Labradorite, and because of this similarity it is also called Velvet Labradorite in some places, even though they are not related.
Why Would You Use It? Metaphysical Properties

As this stone has a number of useful metaphysical properties as well as healing attributes, the best way of using these crystals is for meditation.
You may choose to meditate with one of these stones on your third eye, which is known to be particularly helpful, but it will also be effective if you simply have it anywhere within your auric field.
Hypersthene
It is advantageous to meditate with one of these stones while you concentrate on a issue that you need an answer regarding.
You might find that the solution comes into your mind soon after you have finished meditating, if you relax and allow it to happen.
Mystical & Magical Powers Of Hypersthene

These stones have long been known for their strong action to stimulate magical gifts.
They are known to boost mystical or magical powers, if you specifically work with them for this purpose.
In the past people may have believed they were magical partly because they have such a strong energy to help you to find answers to problems quickly.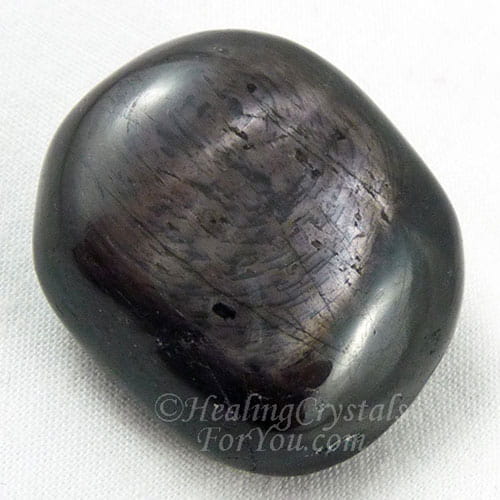 Hypersthene
Their vibration also boosts the ability to see visions or to hear the voice of spirit.
Hypersthene crystals are well known for their action to assist you to receive messages from Spirit and beings in the higher realms.
Once you have created a good connection with the stone you are using, use it in your daily meditation when you may find that it helps you in a number of ways.
This includes its action to boost your ability to see psychic visions also known as clairvoyant gifts. 
It is of value not to try and push for the answer, but to simply ask, then relax and allow it to come to you.
Use it in meditation and ask it to work with you to achieve what you desire.
These unusual stones resonate well within the higher spiritual chakras, including the soul star and the crown chakra.
These crystals have a good effect that may help you to manifest your intentions.
Through their strong powers to help you to receive information about what is required, this may bring what you desire into manifestation.

How To Use It: Healing Attributes
These healing crystals has a number of excellent attributes that make it beneficial to utilize and there are a number of ways that you can use it including:
It is a lovely stone to use while meditating.

It is also helpful to hold a piece of the stone to create calm and serenity when you are simply tired and need to relax and unwind.

Keep it on your body, either by wearing jewelry or putting a piece of the stone in your pocket.

As this is a beneficial crystal for anxiety.
It may help to relieve stress it may be useful to keep a piece on your bedside table or under your pillow to calm you when you are settling down to sleep.

It may particularly assist you if you are feeling depressed or anxious, so this is a good reason to use this unusual stone.
Natural Raw Hypersthene Specimen
It has a comforting energy to aid healing, supporting recuperation after illness by bringing serenity and tranquility to your rest while you are recovering.
As it contains a mix of magnesium and iron you might take into consideration the healing properties of both minerals when you choose whether to use it.
Some health issues that it is known to assist includes problems related to the blood such as anemia and leukemia.
It is known to help many other health issues including problems with the pituitary gland,  the stomach area generally including the prostate and ovaries.
In addition it may help problems in the gut and large intestines, and is known to aid the breakup of growths.
It is also said to have a number of other healing attributes, and is known to be beneficial if you have been experiencing pain in the body, and wearing it may be worthwhile for this purpose.
It's vibration may help to reduce strains in the limbs and the shoulders, and it may assist the healing of an Achilles tendon.
How Will It Help You? Wearing Hypersthene
There are quite a few reasons why you might choose to wear jewelry made from these stones.
Jewelry is of course an easy way to keep stones on your body, and this is particularly true if you are working with a stone that is assisting you to find a solution to a life situation or health issue.
Hypersthene Pendant
Wearing this stone is helpful, as while wearing them you can keep in mind the problem that you need to find a solution to. 
You may find great ideas will pop into your mind quite easily.
One of the other reasons that Hypersthene jewelry is of particular interest to many people is that their vibration helps you to develop psychic gifts.
Gifts such as your clairvoyant and clairaudient abilities may be aided by its energy, so if you want to utilize the healing properties of crystals like these, wearing it on your body may be helpful.
You will find it on the zodiac birthstones list, so you can expect that you may find jewelry made from this stone, although it is not a common crystal.
Its calming vibration may help you if you are feeling anxious or stressed so this may be another reason to keep it on your body.
Wearing earrings made from this stone keeps the energy close to the third eye so this is beneficial to strengthen these gifts, and it may also stimulate the chakras above and below the third eye.
They are a Libra birthstone, so they may be particularly advantageous to help you if this is your star-sign.
Helps You To Find Answers: Who Should Use It?
The vibration of Hypersthene may assist you to feel less critical or prone to finding fault with others, and they can also help you to be open to seeing choices and solutions for your future.

It has a lovely energy that resonates within the solar plexus chakra. 
The solar plexus is also related to manifestation and the resonance of this stone within this chakra is very helpful to assist you to manifest your intentions.
Used there it may help to enhance your self esteem and to feel more self respect and assurance in the decisions you make.
As the vibration of these crystals help you to find answers more easily, they may also generate stronger confidence in your decisions.
To accentuate its energy for helping you to make good choices, use it combined with crystals that aid decision making.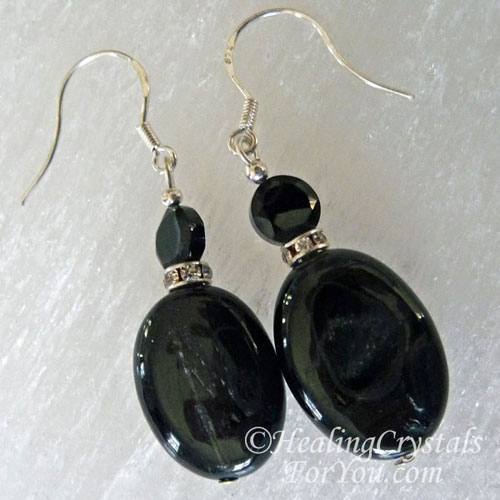 Hypersthene Earrings
Because this stone aids you to find answers, you may find that having confidence that the answers you receive are real is extremely beneficial.
At the same time you may feel a greater sense of resolve to take action about issues that are important to you.
The energy of this crystal is also known to aid you to feel less judgmental about others, and may assist you to feel less critical or disapproving of them.
It also resonates within the root or base chakra, and by resonating within this chakra it may help to improve connections with those in your life.
This includes personal relationships and those you have with friends and work colleagues. 
Best Crystals To Use With Hypersthene
What are the best crystals to combine with Hypersthene?

Some crystals, like this one, will boost more than one psychic gift.
This stone can help you to develop your clairvoyant gifts and this relates to seeing visions of a spiritual or psychic nature.
There are a number of stones that will work well with it to boost this gift, including some of the high crystal energy stones.
Stones such as Amethyst Cacoxenite, Selenite, Phenacite or Elestial Quartz are useful to use with them to stimulate the third eye, crown and soul star chakra.

This stone is known as a stone of magic, so if you wish to accentuate your magical or mystical energy it may benefit you to use it with other stones that also are known as mystical crystals.

Some of my favorites that you may wish to combine with this stone for this purpose includes Indigo Gabbro also called Mystic Merlinite, Blue Barite, Labradorite or Bowenite also known as Maori Greenstone.
You may choose to use it with other strong stones that stimulate your visionary abilities such as Lapis Lazuli, Blue Sapphire, Melikaria or Shattuckite.

To assist you to manifest your intentions, some other crystals that have a strong energy to aid the process might be used with them.
This includes stones such as Golden Yellow Topaz, Iron Pyrite, Moss Agate and White Topaz.
As this crystal resonates well within the base or root chakra, if you would like to use it to help relationship problems.
This also includes its action to assist you to find answers to issues you might be having, use it with other root chakra stones.
Use it with other strong base chakra stones that also resonate well within the heart chakra. 
Stones such as the lovely Red Ruby, Rubellite also known as Red Tourmaline, Rhodonite and Rhodochrosite all resonate within both chakras.
There are a number of stones listed in my article on clairaudience, and quite a few of them will be helpful when used in combination with this stone to boost its action to accentuate your psychic hearing.
Some of the crystals that I like to personally combine with this stone includes Labradorite, Dream Quartz, Herkimer Diamond, Chlorite Phantom Quartz and Iolite.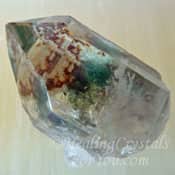 Chlorite Phantom Quartz
---
Hypersthene Meanings Properties & Uses
---
 Want to join my regular newsletter? It's easy.

Simply click on the banner that comes across the screen!
---
Looking for information about a specific crystal?

To See The A-Z of Crystals Minerals and Stones Click Here
If are looking for crystals for a specific purpose, there is an area you may like to check out here, Healing Crystal Uses. It lists individual articles about stones to use for a particular reason.
---
Note: When you use the vibration of crystals to help and support your healing remember that crystals are part of an holistic approach to your health.
Metaphysical healing uses universal energy so does not stand alone and can be used with any other type of healing. 
Using the energy of crystals for healing yourself is about finding a way to enhance conventional medicine not replace it. So always seek out medical treatment for any worrying health issue.
---
---
Don't Know Which Book About Crystals To Buy?
Read reviews of best crystal books here
---
Thank You! I Appreciate Your Visiting My Site!
In my articles I may recommend various items that I use and love or that I feel are of value to my readers, and I earn a commission for purchases made through links on this page. 
FTC Disclosure:  If you make a purchase via a link on this site, I may receive a small commission on the transaction: at no added cost to you. Thank you!
Read My Affiliate Disclosure Here

Please Read Copyright And Disclaimer Notice
For: https://www.healing-crystals-for-you.com/
Any information that may be found anywhere on this site is not presented as a substitute, nor intended to be a substitute for medical advice, treatment or diagnosis.
Never disregard advice from your medical professional or delay seeking medical advice because of anything you may have read on Healing-Crystals-For-You.com.