Lamprophyllite

Sparks Grounded Inspired Thinking
➤ Written By Liz Oakes
Lamprophyllite is a strong grounding stone that has a good action to inspire your thinking.
It helps to keep you connection to the energy of the earth while you are working in the higher realms.
It's metaphysical properties help to stimulate useful ideas that are very clear, and easy to interpret in the flow of your life and your purpose.
It is known for its action to prompt your ability to develop precognition and to better understand thoughts and experiences of a prophetic nature.
It may encourage kindness, consideration and tolerance towards others, and has a number of good healing properties and is beneficial to use in meditation.
---
Healing-Crystals-For-You.com is reader-supported. When you buy through links on my site, I may earn an affiliate commission. Click Here to learn more.

---
Where Is It From? Lamprophyllite Meaning
The color of these stones may be brown, yellowish brown or golden yellow.  The meaning of the name of this mineral comes from two words, 'lampro' and 'phyllite'. 
The word 'lampro' means shining and 'phyllite' means leaf, referring to its lustre and cleavage as it has leaf like sheets within its mineral structure.
It may also occur as needle like aggregates, and as tabular elongated crystals.

While it is most commonly found in Russia it is also found in a number of other places including in Norway, Greenland, South Africa, Canada, Brazil and the United States.
Why Would You Use Lamprophyllite?

Lamprophyllite has a good action to stimulate latent abilities of a prophetic nature and their vibration helps to stimulate the opening of these gifts.
Once your prophetic or precognitive ability begins to open, you may then have a greater awareness of the meaning of ideas that come through to you.
Their energy may also create clarity regarding the answers to questions of a prophetic nature, which may not always be plain and understandable.
They are beneficial crystals for precognition or prophecy and they are known to be helpful when used for divination.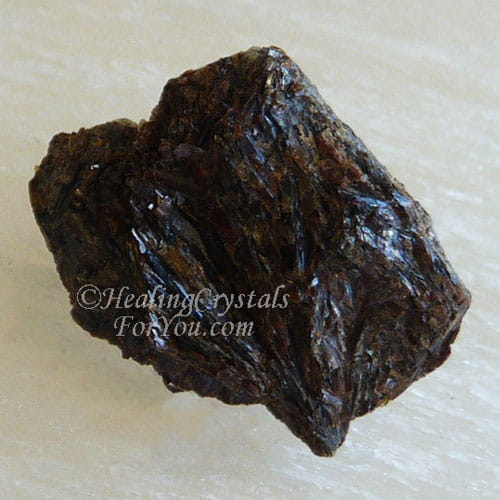 Lamprophyllite
Sometimes inspiration comes at you when you least expect it as flashes of ideas that are not always totally understandable
This may happen during meditation and if you relax and allow these thoughts time to mature they may assist you to improve your life 
Inspired thinking has a lot in common with imagination, as by putting your imagination to work, this can stimulate inspiration and aids your ability to think in an inspired way.
How Will It Help You? Who Should Use It?
Using these brown crystals in meditation is one of the ways that may help to enhance your precognitive or prophetic potential.
They are good crown chakra crystals that help to build greater awareness and a higher level of spiritual growth, enlightenment and expanded intellectual ability.
They can be used to open your spiritual gifts and when used in meditation may assist you to connect with spiritual teachers who might be waiting to help you.
In addition because they are strong grounding stones they keep your connection to mother earth, with a good resonance within the lower chakras.
Lamprophyllite
Lamprophyllite is also one of the crystals for kindness as it assists you to act in a  more tolerant way towards others even if they are being disagreeable or unfriendly.
Their energy may spark an increase in both tact and sensitivity towards others when you are discussing uncomfortable issues.
They boost consideration, thoughtfulness and subtlety when you need to talk about difficult problems that may arise.
Healing Properties:

My Final Thoughts

While they do not have a large number of healing properties their vibration is purported to assist you in a number of ways.

They are said to have a good healing action for problems in the intestines as well as issues in the stomach and kidney infections.

Their energy is also known to assist the healing of burns and they may assist the resulting scars of the skin and they are said to assist those with problems related to cholesterol regulation.
Lamprophyllite
In summary: these crystals have a good grounding action that helps to take excess energy down through the root or base chakra to the earth chakra for release.
One of their most powerful actions is their ability to stimulate prophetic ability and this may be boosted by using them regularly in meditation.

This can also spark inspired ideas that will help you to gain clarity about issues that you need assistance with.
As mentioned above they are good crystals for boosting tact and aiding discretion when you are discussing issues that may be sensitive to others.
Best Crystals To Use With Lamprophyllite
What are the best crystals to combine with Lamprophyllite?

These stones have an excellent energy to stimulate inspired thinking.
By taking advantage of the flashes of inspiration and flowing with ideas that come through to you, your life can benefit a lot.
There are other crystals that boost inspiration and these may be combined with this stone to help you if you have a need to boost your ability to think in an inspired way.
Stones to use for this purpose include Sugilite, Chinese Writing Rock or Stone,  Chlorite Quartz and Carnelian.
If you are using this stone to help you to develop your precognitive ability or to develop prophetic visions, use it with other stones that also aid you to boost this gift.
Stones that you might choose to use includes Prophecy Stone, Dream Quartz, Iolite or Hyalite Opal.
Their action as crystals to boost tactful and sensitive communication may be boosted by pairing them with other crystals for tact.
Specific crystals you might choose includes Howlite, Snow Quartz, Pollucite or Watermelon Tourmaline.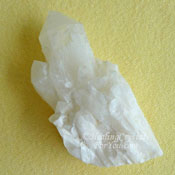 Snow Quartz
Combine them with other stones that have a good earth chakra energy as these are also excellent for grounding you.
Pairing them with earth chakra crystals such as Jet, Black Kyanite, Augite or Pyrrhotite may be beneficial.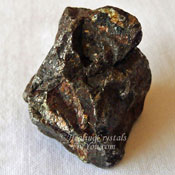 Pyrrhotite
If you have been feeling unwell and think you may be ungrounded, these stones will assist you to create a better connection to the earth.
They can be used alone or in combination with any of the well known grounding stones, to assist you to make a connection to Mother earth through the base chakra.
There are quite a few fairly common stones that aid grounding, and any of these may be used in combination with the less well known stones depending on what crystals you have in your collection.
Some of my favorites include Black Onyx, Black Diopside,  Magnetite or Pyrite as well as Black Tourmaline. Hold it in your hand to assist you when you need help. 
There are also quite a few other grounding stones as well. If you are not sure of what it means to be ungrounded, perhaps you would like to known more about the symptoms.
If this interests you, check out this article to find out: Are You Ungrounded?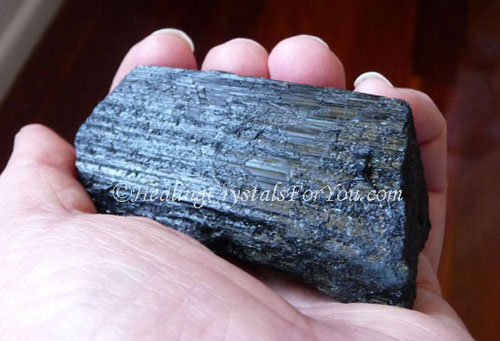 Hold Black Tourmaline in your hand.
More Pictures Of Lamprophyllite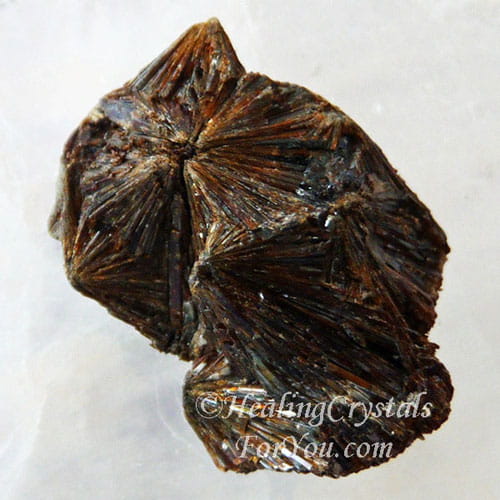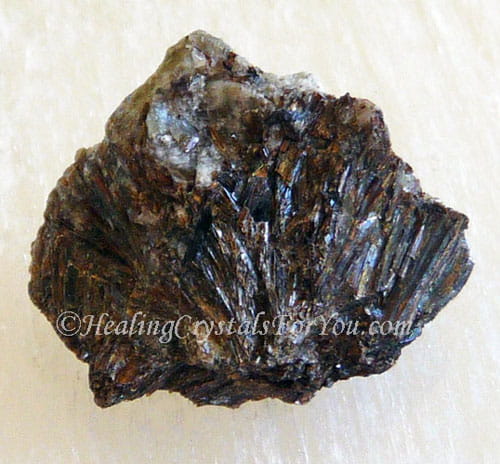 ---
Want to join my regular newsletter? It's easy.
Click on the banner that comes across the screen!
---
Looking for information about a specific crystal?

To See The A-Z of Crystals Minerals and Stones Click Here
If are looking for crystals for a specific purpose, there is an area you may like to check out here, Healing Crystal Uses. It lists individual articles about stones to use for a particular reason.
Discover more here about Psychic Gifts, Meditation and Spirituality
---
Note: When you use the vibration of crystals to help and support your healing remember that crystals are part of an holistic approach to your health.
Metaphysical healing uses universal energy so does not stand alone and can be used with any other type of healing. 
Using the energy of crystals for healing yourself is about finding a way to enhance conventional medicine not replace it. So always seek out medical treatment for any worrying health issue.
---
Thank You! I Appreciate Your Visiting My Site!
In my articles I may recommend various items that I use and love or that I feel are of value to my readers, and I earn a commission for purchases made through links on this page. 
FTC Disclosure:  If you make a purchase via a link on this site, I may receive a small commission on the transaction: at no added cost to you. Thank you!
Read My Affiliate Disclosure Here

---
Please Read Copyright And Disclaimer Notice
For: https://www.healing-crystals-for-you.com/
Any information that may be found anywhere on this site is not presented as a substitute, nor intended to be a substitute for medical advice, treatment or diagnosis.
Never disregard advice from your medical professional or delay seeking medical advice because of anything you may have read on Healing-Crystals-For-You.com.