Clear Quartz Point Grew Yellow Mass During Full Moon
Clear Quartz Point Grew Yellow Mass During Full Moon
by Amie A
(TN)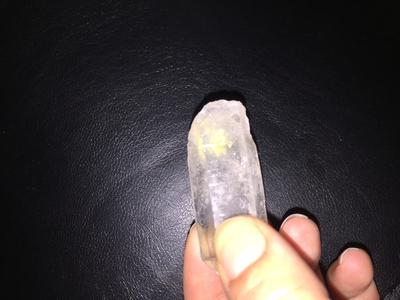 During the worm moon last night, I was charging my crystals. This morning I pulled them out of the window sill to find a yellow-green mass growing in the end of one of them.

A little back story. Since September 2019 my Mom had been battling cancer. First thyroid, then it went into remission after about a month and then we found out she had lung cancer. Two weeks later it had moved to the brain.

It was a Monday when she had 6 tumors on the brain. By Tuesday there were 9 and she had to be admitted to the hospital.

She started whole brain radiation in the hospital then wanted to come home, so we did. I've been staying with her for a few weeks. I had my bf bring all my crystals yesterday for the moon.

When I put them in the window sill they were all perfect. This morning my clear quartz was spiderwebbed, chipped at the tip, and has an odd yellow green growth. I am hoping for a little insight, thanks in advance!
Join in and write your own page! It's easy to do. How? Simply click here to return to Your Crystal Story.