Properties Of Crystals

In The I Alpha Section
➤ Written By Liz Oakes
The properties of crystals and stones that start with the I is what this section of my site relates to. This page relates to the I alphabetic group. 
Iolite Sunstone
This page only contains information about stones that start with I.
If you are looking for something else the A to Z of crystals minerals and stones page, see link at the bottom of the page. First see the list of stones in the picture grid below.
Any crystals that has its own page written will have a link under the picture, making it easy to find what you are looking for.  
There are quite a few stones in the grid, so take a look.
---
Healing-Crystals-For-You.com is reader-supported. When you buy through links on my site, I may earn an affiliate commission. Click to learn more.

Properties Of Crystals: I
If the stone has not yet had a page written about, but is in the grid, you'll find more information below.
If the name of the stone in the grid isn't a link to another page, check the section below as it will instead feature in a condensed explanation of what it does, straight below these pictures.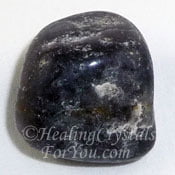 Iolite Sunstone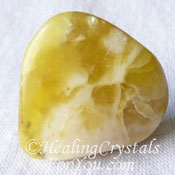 Iona Marble
After the properties of crystals in the I alphabetic section, you will find a table showing all a list of all of the chakras.

Isla Rosa
After the name of each of the chakras outlined in that table, you will see names of various stones in this alpha section so that you can discover which chakra that they resonate within.

Video about Israel Stone also called Eilat Stone
Properties Of Crystals: I
Iceland Spar or Optical Calcite
Iceland Spar was named for the location where it was originally discovered, but it has since been found in other locations.
It is also known as Optical Calcite, and the properties of crystals like these do relate to their action to help your eyesight.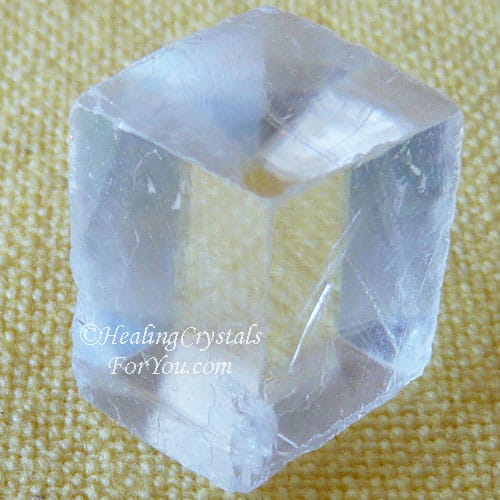 Iceland Spar
They are wonderful crystals to aid clarity of thought, and they have a strong resonance within the higher chakras, particularly at the third eye and crown chakras.
They are helpful to kindle clarity of thought, and are beneficial when placed on the third eye when you are meditating.
Used this way, Iceland Spar may help you to clearly see what is required in your life. While this crystal was formerly only found in Iceland, other deposits have now been discovered elsewhere.
It also now comes in a range of colors other than clear, due to included minerals, and there are many beautiful colored optical calcite varieties.
Inderite
Inderite vibrates with a strong energy within the crown chakra, then it will go on to align all of the chakras, creating contentment and serenity.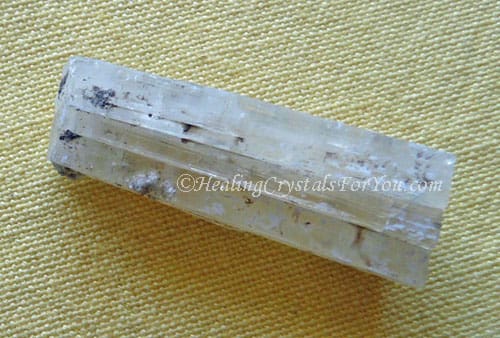 Inderite
It is a wonderful stone to release you from the binds of fear caused by beliefs that you may no longer wish to be part of your life.
In particular this refers to strict and orthodox outlooks that create rigidity, and may destroy your ability to be inventive and adventurous in life.
The properties of crystals of Inderite relate to its action to help you to find your own set of personal beliefs, your truth, and to do it calmly, but still feel free to take an adventurous path in a new and maybe different direction.
It aids you to allow yourself to look into new ideas and find out what is right for you, without being stopped by the fear of past ideas and ideals, and it aids decision making.
Its energy will also help you to let go of anger along with the fear, and to go forward with courage when facing new situations. It is a good stone to assist you to manage your money better, and use it more sparingly and so avoid debt.
Iolite Sunstone
Iolite Sunstone is a mixture of metaphysical qualities of both Iolite and Sunstones.
There are two types of this stone now, one that is a combined stone and also a new type that was discovered recently.
It clearly shows the two minerals which are naturally occurring with each other.
Sunstone With Blue Iolite
Like Iolite stones they have a strong vibration within the third eye chakra, and like Sunstones they bring joy and positive feelings.

The properties of crystals apply to their powerful action to awaken psychic gifts, specifically the ability to utilize prophetic or precognitive visions.
They may also help you to communicate more clearly with spirit guides.
They embody many Iolite qualities, with the added energy from Sunstones that takes the energy down into the lower chakras, where you are able to ground these ideals into your physical existence.
Iona Marble or Scottish Greenstone Marble
Iona Marble is said to come from a small Scottish island in the Hebrides, but these days the lovely stone may come from other parts of Scotland.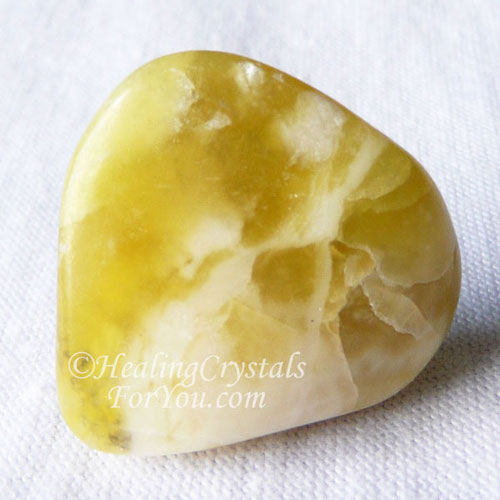 Iona Marble
This is an island that is a place of magic, and the properties of crystals from here is connected to the energy of the ancient druids who used the island for their ceremonies in the distant past.
This use of the land embodied both the earth of the island and these stones with an energy that may aid the development of supernatural powers.
These yellowish-green and white stones are also said to have good healing attributes, and may aid healing of karmic issues related to Celtic past lives.
The color of these stones, now commonly called Scottish Greenstone Marble, comes from Serpentine, which is naturally blended with the white marble of the area.
Its gemstone meanings became more well known during the reign of Queen Victoria, when this stone became popular to make jewelry.
Prior to that it was traditionally used as a talisman against shipwreck. Other uses have been as protection against fire, and to prevent miscarriage.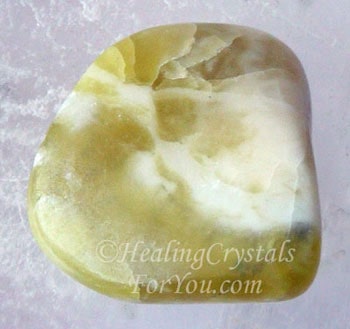 Scottish Greenstone Marble
Isla Rosa



Isla Rosa comes from the west coast of Scotland.
It is thought to be a variety of limestone, with a mineral make-up comprised of Dark Pink Calcite with tiny inclusions of Green Diopside and Black Pyroxene.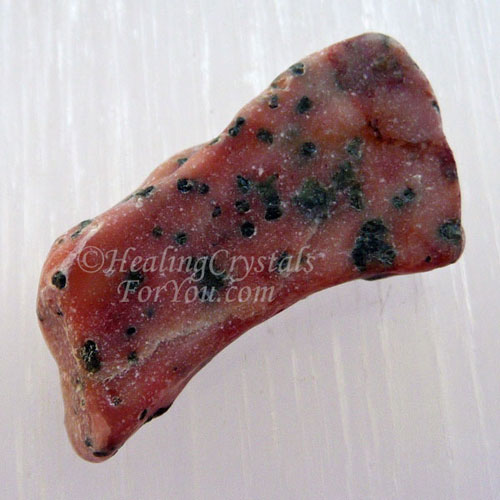 Isla Rosa
While these stones are not common, it may be beneficial to see if you can find a piece, as there are a number of beneficial properties of crystals like these to help your life.
They are known to stimulate an optimistic approach to your thinking, and may help to boost motivation and optimism about the circumstances of your life.

These pink stones may aid you to feel grateful for those things in your life that brings you joy, happiness and optimism, and may trigger a stronger depth of appreciation for what you have.
Specific Chakras - List Of Chakra Stones For I Alpha Group
Soul Star Chakra: Iceland Spar
Crown Chakra: Iceland Spar, Imperial Topaz, Inderite
Third Eye Chakra: Iceland Spar, Inderite, Indicolite Quartz, Indigo Kyanite, Iolite Stones, Iolite Sunstone
Throat Chakra: Iceland Spar, Inderite, Indicolite Quartz, Iolite
Higher Heart Chakra: Iceland Spar, Inderite, Indicolite Quartz
Heart Chakra: Iceland Spar, Inderite, Inesite, Iona Marble, Isla Rosa
Solar Plexus Chakra: Iceland Spar, Imperial Topaz, Inderite, Iolite Sunstones, Iona Marble, Iron Pyrite
Sacral Chakra: Imperial Topaz, Inderite, Iolite Sunstones
Base Chakra: Iceland Spar, Ilvaite, Inderite, Iron Pyrite
Earth Chakra: Iceland Spar, Ilvaite, Iron Pyrite
Found What You Were Looking For?
This page is only about stones in the I alphabetic group. Hopefully you found what you were looking for
If you didn't check out the A to Z of Crystals Minerals and Stones page, see link below, which should make it easy to discover if the stone you wish to know about has been written about.
---
 Want to join my regular newsletter? It's easy.

Simply click on the banner that comes across the screen!
---
Looking for information about a specific crystal?

To See The A-Z of Crystals Minerals and Stones Click Here
If are looking for crystals for a specific purpose, there is an area you may like to check out here, Healing Crystal Uses. It lists individual articles about stones to use for a particular reason.
---
Note: When you use the vibration of crystals to help and support your healing remember that crystals are part of an holistic approach to your health.
Metaphysical healing uses universal energy so does not stand alone and can be used with any other type of healing. 
Using the energy of crystals for healing yourself is about finding a way to enhance conventional medicine not replace it. So always seek out medical treatment for any worrying health issue.
---
---
Don't Know Which Book About Crystals To Buy?
Read reviews of best crystal books here
---
Thank You! I Appreciate Your Visiting My Site!
In my articles I may recommend various items that I use and love or that I feel are of value to my readers, and I earn a commission for purchases made through links on this page. 
FTC Disclosure:  If you make a purchase via a link on this site, I may receive a small commission on the transaction: at no added cost to you. Thank you!
Read My Affiliate Disclosure Here

Please Read Copyright And Disclaimer Notice
For: https://www.healing-crystals-for-you.com/
Any information that may be found anywhere on this site is not presented as a substitute, nor intended to be a substitute for medical advice, treatment or diagnosis.
Never disregard advice from your medical professional or delay seeking medical advice because of anything you may have read on Healing-Crystals-For-You.com.