Have You A Crystal Story...
About Your Favorite Crystal? Share It Here!

What Is Your Favorite Stone?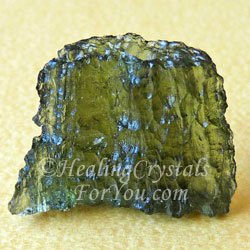 Moldavite Crystal
Tell your crystal story about the crystal you love the most! And share how you use your favorite stone.
If you are at all like me, sometimes you have one that you use for ages, then suddenly you just seem to lose interest in it?
Have you had that happen to you? Maybe it was because it did what it needed to do, to heal you.
There are now so many different stones available, and they have so many different healing outcomes.
If you had something special happen to you after using that special crystal... like to share it with all of us?
FTC Disclosure: As an Amazon Associate I earn from qualifying purchases. Other links or banners on this page may lead to other companies that I'm associated with.
Would You Like To Share With Us?
Maybe, like a lot of other people... you simply love crystals! If you have anything you would like to share about crystals, this is the place.

Obsidian Stone
I would love to hear your impressions of what a specific stone does for you!
If you are a healer and would like to share how you use crystals for healing, use this page to tell your story.
Have you some fascinating facts about crystals, that you know others would like to know?
Have you an special crystal picture, and would you like to tell us the story behind this picture?
Note: You can upload pictures along with your story. HOWEVER... only original photos that you have permission to use and share will be published.
Please do not copy images from other sites without the permission of the owner. I also won't publish pages that have links in to other sites.
Also note if you are just asking a short question, this is not a story and it also will not be published. This also applies to very short stories, so if yours does not go up its because its not long enough.
How do you use your crystals?
Even if your story doesn't fit into the above... if it is about crystals, this is the place for you to tell the world. Use this page to share with others, who love crystals as much as you do.
I look forward to hearing your Top Crystal Story! Thank you in advance for sharing!
Have You A Favorite Crystal or Stone?

Share Your Story Here!
Have you a crystal or stone that you just love! Are you a healer who uses crystals? Share your special story or tips here, about how you use your crystals.
What Other Visitors Have Written
Click on links below to see some great crystal stories. These were written by other visitors to this page. You can share your story too!

Re: My Suggested Books... Thank You!
In my articles I recommend various items that I use and love and feel are of value to my readers.  If you buy something by clicking on one of those links I receive a small commission.
 There is no additional cost to you, you pay the same price. Read my Affiliate Disclosure.
Thank you very much to everyone who uses my affiliate links when you shop. Its how I keep this site running and I truly appreciate your support.
---
---