Earth Chakra Stones... 
Grounding You and Connecting You To Mother Gaia
Black Obsidian Egg, An Earth Chakra Crystal
Earth chakra stones have strong properties to keep you grounded and protected, and to secure your aura within the physical world.
Many of your day to day activities have the potential to unground you. 
Using computers for long periods of time, driving around in your vehicle, and having no real contact with the earth, can make you very ungrounded.
Spiritual work can easily make you ungrounded, so afterwards it is best to make sure that you ground yourself quickly.
Spiritual grounding is easy and may help those of you who are doing psychic work.
After intense spiritual experiences, you may be unaware that you have a build up of energy in your body and that you need to release this energy.
Where Is It? Earth Chakra Meanings
The earth chakra is located approximately 12 to 18 inches below the soles of the feet. Often called the earth star chakra, it is not within the actual physical body but is part of the etheric body.
This chakra aligns you with the magnetic core of the earth, and connects you with Mother Gaia. This chakras meaning is all about the idea of 'grounding', especially in a metaphysical way.

The earth chakra meanings relate to the very foundation of your being, within everyday life. This area relates to your energy levels as this area is your anchor into physicality.
It is very important for everyone, but especially spiritual people that this chakra is healthy.
This is where you connect your energy to Mother Gaia to resource and reground your body.
It is important that you regularly make the connection to the earth through your base or root chakra and on down to the earth star chakra to ground yourself.

As you reconnect to Mother Gaia's energy, you do two things. You draw from the earth the vibration that enables you to become grounded, and discharge into the earth your excess energy.

Which Earth Chakra Stones to Use
In the twenty-first century, we live our lives on a day to day basis quite differently to the past. The pace of life means that we often do things that may unground us.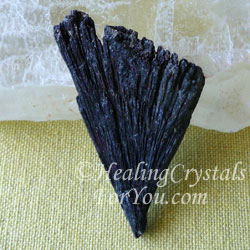 Black Kyanite
One way to help yourself is to carry or wear earth chakra stones within your aura.

That way when you become ungrounded you may use them to aid you to ground quickly. So which stones should you use?

It is highly recommended that you use Black Kyanite, before you use any other stones.
It is easy to buy Black Kyanite, and it is helpful for grounding, and has the added advantage of aligning your chakras.
For earth star grounding and protection, many of the black gemstones are highly beneficial.
The list of stones for this chakra is quite long, so it is located at the end of this article. You may already have some of the stones in the chart, and if you do will be able to make use of them immediately.
Chakra Colors of Earth Chakra

The colors for the earth star chakra stones is traditionally black and dark brown, but there are other crystals that are helpful for or all of the chakras, including this chakra.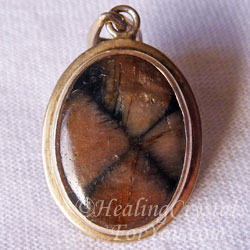 Chiastolite Pendant
The energy of stones of the darker colors, such as black or brown are very grounding, and they are often powerful psychic protection stones.
All black and brown stones will aid you, but some stones seem to be more popular.
Having one or more of the stones for grounding and protection within your aura at all times is essential.
Many earth chakra stones are easy to obtain as tumblestones, and easy to put one or more of the grounding stones in your pocket every day.
Black stones like Black Obsidian Stone, shown in the image at the top of the page, or brown crystals like the Chiastolite Pendant shown here, make up most of the chakra stones.
Chiastolite is also known as Cross Stone, and is a popular stone that naturally carries a cross within it. Because of the cross, in the past people believed that it was very powerful and highly protective, which it is.
How To Use The Earth Chakra Stones
Wear any of the earth star chakra stones as jewelry. These darker crystals are quite attractive and many of the black gemstones are very beautiful.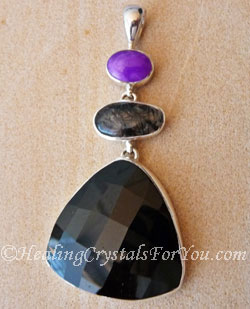 Black Tourmaline Pendant
When choosing stones for jewelry, black stones are popular as they can easily be worn with most colors of clothing.
Black crystals have an advantage that if you make them into gemstone bead necklaces they can be mixed with most colors.
This provides the metaphysical vibration and its advantages, as well as matching your clothing.
Lovely pieces of jewelry made from Black Tourmaline, like this lovely pendant made from Australian Black Tourmaline from the Flinders Ranges, are quite beautiful.
This stone is one of the most effective stones, as it works for both spiritual grounding and protection.
If the way you live your life means that you get easily ungrounded, make sure you have a few under your pillow at night. While you sleep they will do their work.
How Will The Earth Chakra Stones Help You?
Do you know if you are ungrounded?  One of the most powerful methods to use to ground you is to do a grounding meditation.

Hold earth star chakra stones while you do this. The earth chakra stones may also connect you to elemental beings who are in or around your home.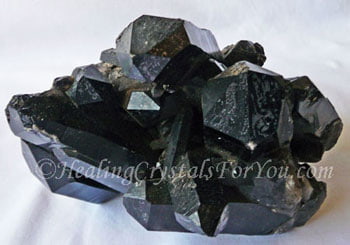 Black Quartz Cluster
While there are some lovely heart chakra stones that will also do this, the earth energy stones also attract them to you. These beings want to interact with you and love to help people, if you are open to it.
The earth star chakra is our connection to Mother Gaia. It is important to feel love and gratitude to her, for all that she gives to you, that comes back to you in equal measures. 
Use spiritual grounding to connect yourself often with the earth, and you will feel happier and healthier.
Freedom of the mind is the greatest form of freedom that exists.

Crystal Books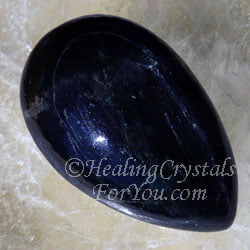 Black Diopside
The books about crystals that are shown below are all very in-depth crystal reference books.
There are some authors of crystal books who have been in the crystal industry for many years. Having one of their books on hand for reference purposes is beneficial.

Melody's Encyclopedia Love Is In The Earth, is a book that covers more than most.
This book gives you so much information, and covers so many crystals that on its own is almost a reference library. Note I am talking about the large encyclopedia, not her smaller books of the same name.
The larger Love Is In The Earth book (965 pages) is fully illustrated with good pictures of the stones Melody writes about, while the earlier book of the same name had a separate book with pictures in, so be careful when you look at these selling.
If you wish to read reviews of my favorite Crystal Books Click Here.
List of Earth Chakra Stones & Crystals
Aegirine, Anandalite

Apache Tears

Aragonite Star Clusters

Astrophyllite

Almandine Garnet

Ascension Stones

Aurora Quartz
aka Rainbow Quartz

Axinite

Bastnasite aka
Bastnaesite

Bixbite

Black Agate

Black Amethyst

Black Ammonite

Black Andradite Garnet
aka Melanite Garnet

Black Coral

Black Diopside

Black Kyanite

Black Obsidian

Black Onyx

Black Quartz

Black Spinel

Black Tourmaline

Black Tourmaline
and Jeremejevite

Boji Stone

Brown Aragonite

Bronzite, Cassiterite

Charoite

Chiastolite

Chrysanthemum Stone

Chrysotile aka Chrysotite

Cinnabar

Crocoite

Cryolite

Dalmation Jasper
aka Dalmatian Stone

Dianite aka
Siberian Blue Jade

Dragon Stone
aka Bastite

Dravite Brown Tourmaline

Elestial Quartz

Epidote

Eudialyte

Fire Agate

Flint

Gabbro aka
Blizzard Stone

Gaspeite

Goethite

Golden Healer

Hanksite

Hematite

Hemimorphite

Iron Pyrite, Jet

Libyan Desert Glass

Limonite

Lithium Quartz

Luxurianite

Magnetite

Mahogany Obsidian

Menalite

Moss Agate

Mt Hay Thunderegg aka
Star Agate or Amulet Stone

Nuummite

Preseli Bluestone

Prophecy Stone

Pyrrhotite

Que Sera Crystals

Red Jasper

Rutilated Quartz

Sardonyx

Shamanite Black Calcite

Shaman Stones

Shungite

Smokey Quartz

Snowflake Obsidian

Sphalerite

Spurrite aka
Strombolite

Staurolite aka
Fairy Cross Stones

Stibnite

Suleiman

Tantalite

Tiger Eye

Tiger Iron

Tourmilated Quartz

Turquoise

Unakite

Vanadinite

Zebra Stone

Zincite

Zircon
Learn More About The Crystals Listed Here

Some of the crystals above have had in-depth pages written about them.
If you would like to find out more information about any of the crystals on the list above, and discover if its been written about somewhere else on this site, use the Google Search box at the bottom of the page to help you to find it...

Pictures Below Are Earth Chakra Stones...
Links to pages about these black stones...
Black Ammonite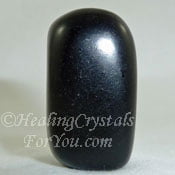 Jet Stone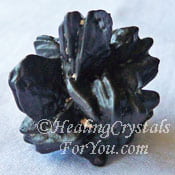 Prophecy Stone
---
---
Some of the brown stones for this chakra...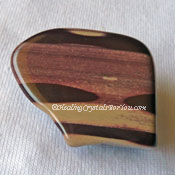 Zebra Stone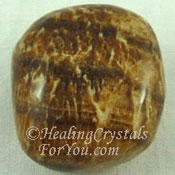 Brown Aragonite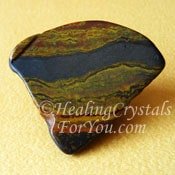 Tiger Iron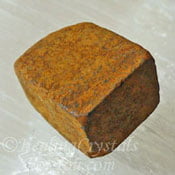 Limonite
Bronzite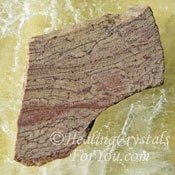 Flint
Read about other colored earth star stones...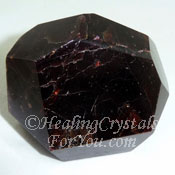 Almandine Garnet
Looking For Information About A Specific Crystal?
Did you know you can find out more about any crystal or topic that is written about on this site, simply by using the Google Search box below?
New Crystals Or Stones...
When you buy a new stone or crystal, it is advantageous to use it on its own first. Once you are fully aware of its energy, you may choose to combine it with other stones.

To begin with, it is best to combine various stones for short periods, as each individual may react differently.

Knowing how you can combine various stones may be helpful, as this allows you to get the most from your crystals, and may help you to solve specific problems in your life.