Mystery Amethyst.... Can Anyone Help?
by Jessica
(Lockport, Il)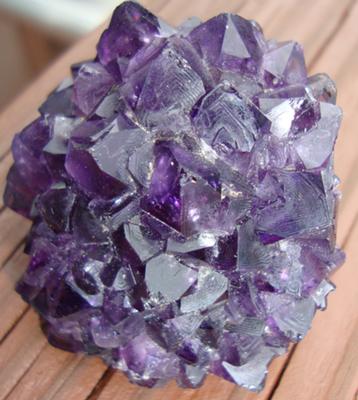 So I got this small amethyst cluster in the mail, after I had already gotten my order completed by this one seller. So needless to say it was an extra one, they sent it on accident. So I got a hold of them and they said they had no idea what I was talking about.

Ok... so I kept the crystal. I put it to the side for a while and paid little attention to it. About 6 months ago I picked it up again and really looked at it. It had all these weird markings on each one of the faces and each one was totally different than the other. I was totally enchanted by it.

Now I carry this crystal with me everywhere, and I've asked stone and crystal specialists, brought it to crystal shows and no one seems to have any idea what the markings are but they all seem to be taken over by it when they hold it.

I even brought it to a channeler and she spoke Chinese when she held it. I have included a photo, if anyone has any kind of information about the markings or about where I could look for info I would be much appreciative of any info. I know this piece is special, and I just got to find out what it is.