Healing Crystals For You Newsletters
Written By Liz Oakes
If you liked what you read please subscribe to receive my regular email newsletter. This free newsletter is issued every few weeks where possible, straight to your INBOX.
Are you subscribed to my newsletter? If not, it's easy to stay with us.
You'll see a banner cross the screen and you can simply use this banner to aid you to subscribe easily and quickly.

Healing-Crystals-For-You.com is reader-supported. When you buy through links on my site, I may earn an affiliate commission. Click to learn more.

Current & Back Issues For You To Read...
Once a newsletter is emailed out they are added to the section below, so you can read them if somehow your newsletter goes missing.
Hopefully that won't happen, but they are here if you need to see them. Enjoy!
September 2022 Issue #109-3
What's In Issue #109-3

Discover crystals for emotional healing so you can deal with 

emotional trauma, sadness and grief.

They aid the release of negative emotions and boost inner peace and harmony.

Using crystals for healing yourself is easy.

See simple ways that you can use them, and learn

 the properties of each stone so you can decide which is best for you.
September 2022 Issue #109-2
What's In Issue #109-2

Learn about blue crystals and how they may enhance your life.
See pictures of many beautiful blue crystals and discover quite a few ways that they help you.
Most blue crystals stimulate the throat chakra.
This may particularly aid your communication abilities.
There are a number of other chakras listed too with the ways they can assist you.
The page is divided up with various headings to aid you, and a list noting the crystals for that section.
September 2022 Issue #109-1
Learn how to charge crystals and how to cleanse them

Discover various methods for charging your crystals

Add positive energy & remove negative energy

Learn methods that make it easy to do it often.
Combine cleansing crystals with charging crystals so you always remember to do both.
August 2022 Issue #108-3
What's In Issue #108-3
Learn about crystals for bad dreams, that help to put a stop to nightmares.
The stones in this group have different ways that they may help with this.
Many have a calming energy and some help to prevent fear related to negative thoughts created by the dream images.
One of the top ways to use them is to place the crystal or stone on the bedside table, but they can also be worn during the day.
Each stone has a specific energy that can benefit you for this purpose and all of these crystals have an in-depth page outlining other properties.
August 2022 Issue #108-2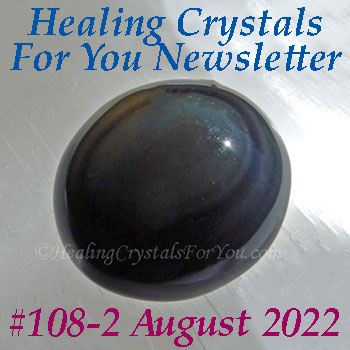 What's In Issue #108-2
Learn about Rainbow Obsidian, an unusual type of sheen obsidian where various colors appear when it is held a certain way.

Its energy helps the release of karma from past lives and may help you to let go of 

fear, depression or mood swings related to past life situations.

Use it in meditation and for gazing, to learn important information.
Also discover other types of obsidian stone and how their energy varies from Rainbow Obsidian.
August 2022 Issue #108-1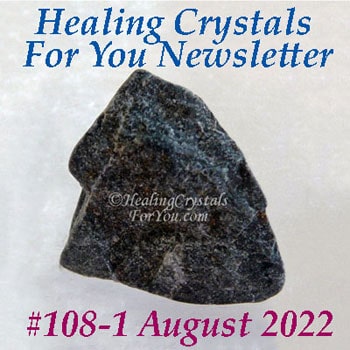 What's In Issue #108-1
Learn about the black crystals and stones. 
See pictures of a large number of beautiful black crystals and stones and learn how they help you. 
The vibration of Black Crystals is advantageous due to their strong base and earth chakra energy.
Their earth connection makes the black stones have a powerful grounding energy.

They aid the release of negative and boost positive energy, are highly protective to protect your personal space and aura.
They also assist those who have EHS or electrohypersensitivity.
Learn more why the properties of Black Crystals and stones are so beneficial to help your life.

July 2022 Issue #107-4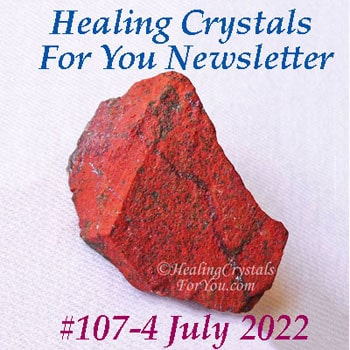 Learn about this bright red base chakra stone that has an excellent energy for healing.
This is a copper based mineral that also occurs in combination with Chrysocolla. 
The Chrysocolla-Cuprite mix is also known as Sonara Sunrise.
Cuprite has a good grounding energy, is also quite protective, and it aids kundalini activation.
July 2022 Issue #107-3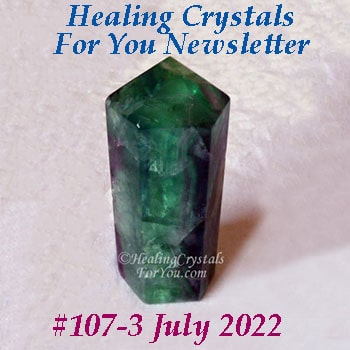 What's In Issue #107-3
Learn about Crystals For Mental Clarity. These crystals or stones have a good action to help you to focus on important issues and concentrate better.
They will help you to have a clearer mind when you are working on tasks that require an unimpeded flow of ideas.
They release doubt and confusion bringing clarity to your mind and can assist you when you are studying.
While individual stones have different properties they all assist you to have a more focused approach to day to day duties.
July 2022 Issue #107-2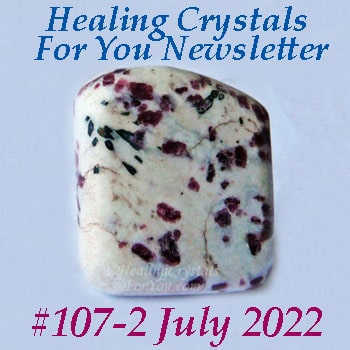 What's In Issue #107-2
Have you heard of Kakortokite, a red and black spotted stone that comes from Greenland?
These crystals are a mix of minerals that creates a powerful Spiritual combination.
Their vibration brings light energy down via the higher chakras, through the body and grounds it in the earth.
This activates a cosmic anchor, which is a powerful support when you are visiting the higher realms in meditation.
These crystals also attract the energy of coincidence and synchronicity.
The red spots in this stone are Eudialyte, and they may also have black spots but these are smaller and harder to see. The black spots are said to be Arfvedsonite and both minerals are in a white matrix.
July 2022 Issue #107-1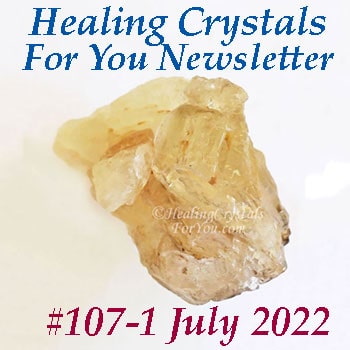 June 2022 Issue #106-4
What's In Issue #106-4
Have you heard of Pecos Diamonds, which are orangey pink quartz crystals?

Pecos Diamond has an energy that boosts happiness and helps you to be aware that having fun in life is important.
It has other strong benefits including enhancing the 

gift of

 precognition or prophecy.

They are excellent crystals for meditation too and are helpful crystals for creativity. 
June 2022 Issue #106-3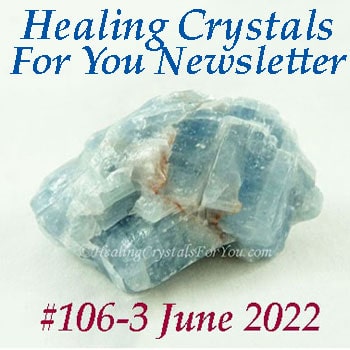 What's In Issue #106-3

Crystals For Pain Relief: many people have pain and need help.
Did you know that there are lots of crystals and stones that help to relieve pain?
There are also many different types of pain which you can learn about.
Discover the various crystals, stones and minerals on the list.
Learn what type of pain they may help. 
June 2022 Issue #106-2
What's In Issue #106-2
Learn about Polychrome Jasper, a gorgeous brightly colored stone also known as Desert Jasper.
Their energy is known to bring good fortune and it may increase joy and happiness with its vibrant nurturing energy.

Do you know How To Use A Pendulum? If you are not sure how its done you can discover more.
Check out the article, see link below as it explains in detail how using a pendulum works. 
June 2022 Issue #106-1
What's In Issue #106-1
Learn About Purple Crystals

:

See pictures of a large number of gorgeous purple crystals and stones and learn how they help you.
The energy of Purple Crystals is effective because the third eye resonates with the color purple so they are powerful stones to stimulate this area.
Many embody the violet flame healing vibration and there are quite a few that are excellent healing stones for stress.
They boost psychic abilities, assist deeper meditation, and there are also purple crystals with a high vibration that aids spiritual growth and healing.
May 2022 Issue #105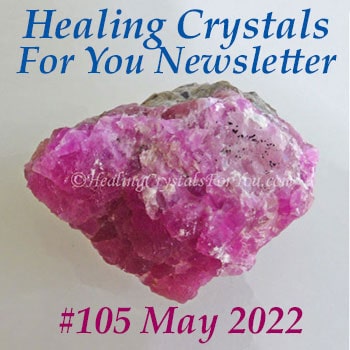 Pink Crystals: Discover many beautiful pink crystals that enhance loving feelings, joy and compassion.

Green Rosasite is a fairly uncommon stone that has a number of excellent properties. 
Remember: if you have been sent this newsletter by a friend, get your own copy by subscribing when the banner comes across the screen.
April 2022 Issue #104
Almandine

is one of the most popular red stones. Learn more about this gorgeous Red Garnet.
Learn about Crystals For Imagination

. Have you heard about the many stones that may enhance your imagination?
This newsletter comes to you regularly and features new information each time. BTW: Did you know you can write your own page on my site, by going to the Crystal Story Page.
The Crystal Story Page is not for short comments or for questions, but for writing a story about how you use your crystals or stones.
March 2022 Issue #103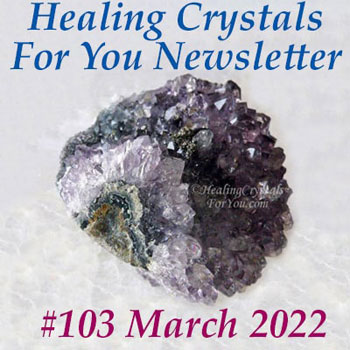 What's In Issue #103
Learn about the

different crystal colors and their meanings

Jet Stone: How will it help you?

Discover the Chakra Meanings - explained simply.

Did you know that there are crystals that create new pathways in the brain? Learn more about them. 
February 2022 Issue #102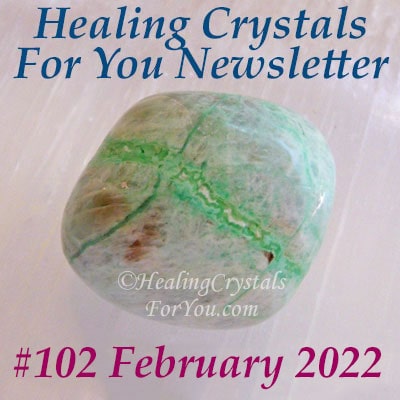 What's In Issue #102
Crystals For Change and Transformation 

Learn about 

Garnierite, the green crystal pictured on the right.




Quartz Formations benefits 

Heard about Prophecy Stone? Read about this uncommon stone.

Discover Crystals For Money and Prosperity 
Explore my site!

Explore my site. Check out the A-Z of crystals, minerals and stones. You can quickly learn more about the pages on this site and see if the crystals you love are written about.
The gorgeous crystal cluster below is the popular purple Amethyst Crystal. While its the most well known type of Amethyst, there are quite few stones in this family. 
Amethyst Cluster
Check out this page to learn more about the Amethyst Types or Varieties.
You may be surprised at some of the lesser known members of the Amethyst family, including pink and black colored crystals in this family.
The crystal below is a quite rare type of Fluorite and it's absolutely beautiful. There are many colors of fluorite so check out the page by clicking on the image.
Magenta Fluorite
Healing Crystals For You Ezine Archive
Looking for information on something, maybe a specific crystal?

Go To Healing Crystals For You Site Map to see list of site pages.
To See The A-Z of Crystals Minerals and Stones Click Here
---
Note: When you use the vibration of crystals to help and support your healing remember that crystals are part of an holistic approach to your health.
Metaphysical healing uses universal energy so does not stand alone and can be used with any other type of healing. 
Using the energy of crystals for healing yourself is about finding a way to enhance conventional medicine not replace it. So always seek out medical treatment for any worrying health issue.
---
Thank You! I Appreciate Your Visiting My Site!
In my articles I may recommend various items that I use and love or that I feel are of value to my readers, and I earn a commission for purchases made through links on this page. 
FTC Disclosure:  If you make a purchase via a link on this site, I may receive a small commission on the transaction: at no added cost to you. Thank you!
Read My Affiliate Disclosure Here

---
Don't Know Which Book About Crystals To Buy?
Please Read Copyright And Disclaimer Notice
For: https://www.healing-crystals-for-you.com/
Any information that may be found anywhere on this site is not presented as a substitute, nor intended to be a substitute for medical advice, treatment or diagnosis.
Never disregard advice from your medical professional or delay seeking medical advice because of anything you may have read on Healing-Crystals-For-You.com.