Trans-Channeling Quartz
by Ann
(Golden, Colorado)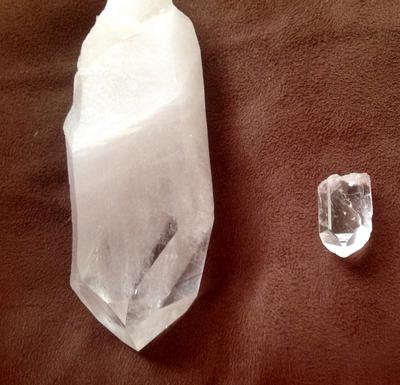 I have been using crystals with intention for only a few months. My sister introduced me to their metaphysical properties years ago but I took it with a grain of salt because I wasn't ready.

Well, I started using gemstones and crystals in my art about a year ago and my sister took me to the gem and mineral show in Tuscon last February. I bought a few crystals, intending to use them in my art.

Life got crazy for a few months and they sat in my studio, ignored and forgotten. Until this last summer. Oh my!

When I finally pulled them out from hiding, they changed my life! I had no idea that this "awakening" thing even existed. I was a typical American, distracted by life and completely unaware of anything metaphysical until my "hippie" daughter drug me to the metaphysical fair in Denver in September 2012.

Fast forward a year and I was an exhibiting artist at the metaphysical fair in Denver in 2013. Things happen fast when you begin to "wake up". So that's the back story.

I went to a small gem and mineral show in October and purchased a large quarts Chrystal, having no idea why, it just called to me. It turned out to be a trans-channeling quarts with three seven sided facets and three triangles between them, a typical Dow.

That was cool and I started using it for channeling, which really knocked my socks off. Me? Channeling? You'd have to know me to understand how bizarre this metamorphosis is. I am a bachelored degreed nurse who has been a very scientific minded and logic based skeptic for my entire life. Until now.

So I began to seek out and learn about different crystals. I visit my local lapidary and gem and mineral stores often and have a collection that would rival many long time crystal collector's array of stones. One stone I wanted, but couldn't find locally, was some Indigo Gabbro or Mystic Merlinite. I ordered some from the internet and with it came a "free gift" of a quartz crystal.

I didn't think much about it and set it aside because the Indigo Gabbro was keeping my attention (now that's a powerful stone!). When, a few days later, I retrieved the quartz to clear and program it, I was astounded and taken aback to find it was an exact replica of my larger trans-channeling quartz, right down to the symmetry of the facets! In fact, it looks like a "mother/daughter" couplet which is unbelievable because of the influence and partnership I have with my own daughter.

What are the odds? Astronomical, I would assume. Look at the photos and judge for yourself. I was sent this quartz as a free gift. I did not order it, find it or even ask for it. It came to me. Time will tell what the purpose of my having both of these crystals might be, but for now, I will just bask in the serendipity and be amazed at the work going on behind the scenes.