Sitemap of Healing Crystals For You
Looking For Information About A Particular Crystal or Stone?
Written By Liz Oakes
Note: If you are searching for something specific on this site, there are drop down menus along the page top, that lead to other sections of the site, or you can read further on this page to see if you can locate what you wish to read about.

 A List of Articles on This Site
Thank you for visiting my site! Are you looking for information about a particular crystal?
If you are looking to find out more about a specific crystal, you will find a list of all the articles written on individual crystals below, and some articles on crystal related subjects.
As not all of the crystals have yet had their specific in-depth article written, you may also want to check out the pages below for the alphabetic groups.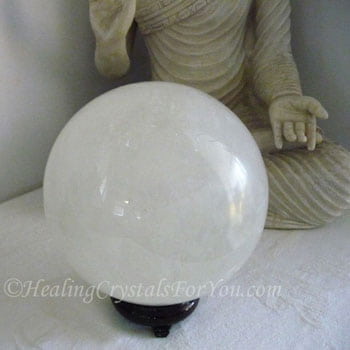 My White Calcite Crystal Ball
On the alpha pages you will find a brief outline of the metaphysical and healing properties of many stones, and a large number of crystals are covered there.
I invite you to look through the list below, which lists all of the articles on this site. Enjoy your search, and let your intuition guide you to what you need at this time for your healing.

As an Amazon associate I earn from qualifying purchases
Jul 16, 19 01:07 PM

Kunzite Crystal has a high vibration that heals relationships and releases negative feelings. It heals the emotions and helps love to fill your life. Its energy helps to lift your mood and relieves pa…

Jul 15, 19 04:37 PM

The role of the crown chakra is to aid spiritual growth and commitment to higher ideals, while also managing the health of specific areas of the brain, the pineal gland, the pituitary, the nervous sys…

Jul 15, 19 01:10 PM

Green Calcite resonates within the higher heart chakra to boost compassion & forgiveness, and may help the release of anger & resentment. It is known to assist the memory, help with change and is a hi…
Thank You! I Appreciate Your Visiting My Site!
In my articles I recommend various items that I use and love and feel are of value to my readers.

FTC Disclosure:  If you make a purchase via a link on this site, I may receive a small commission on the transaction - at no added cost to you. Thank you!
Read My Affiliate Disclosure Here

---
Links To Buy Judy Halls Crystal Prescriptions Books
---