Sitemap of Healing Crystals For You
Looking For Information About A Particular Crystal or Stone?
Note: If you are searching for something specific on this site, there are drop down menus along the page top, that lead to other sections of the site, or you can read further on this page to see if you can locate what you wish to read about.

 A List of Articles on This Site
Thank you for visiting my site! Are you looking for information about a particular crystal?
If you are looking to find out more about a specific crystal, you will find a list of all the articles written on individual crystals below, and some articles on crystal related subjects.
As not all of the crystals have yet had their specific in-depth article written, you may also want to check out the pages below for the alphabetic groups.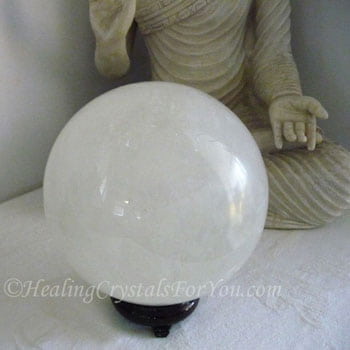 My White Calcite Crystal Ball
On the alpha pages you will find a brief outline of the metaphysical and healing properties of many stones, and a large number of crystals are covered there.
I invite you to look through the list below, which lists all of the articles on this site. Enjoy your search, and let your intuition guide you to what you need at this time for your healing.

FTC Disclosure: As an Amazon Associate I earn from qualifying purchases.
Other links or banners on this page may lead to other companies that I'm associated with.
Re: My Suggested Books... Thank You!
In my articles I recommend various items that I use and love and feel are of value to my readers.  If you buy something by clicking on one of those links I receive a small commission.
 There is no additional cost to you, you pay the same price. Read my Affiliate Disclosure.
Thank you very much to everyone who uses my affiliate links when you shop. Its how I keep this site running and I truly appreciate your support.
---
---