Moss Agate 
Creates Grounded Balance
➤ By Liz Oakes
Moss Agate is a good grounding stone with a balanced enduring energy that aids you to correct imbalances between the two sides of the brain.  
It embodies sound metaphysical properties that are known to aid abundance and prosperity and stimulates creativity.
This green stone resonates with a lovely heart based vibration.
Most of you will find it useful to have it in your life as it is a quite spiritual stone that has a number of excellent qualities.
This includes grounding excess spiritual energy down through the base and earth chakra to Mother Gaia.

The vibration of this stone brings you strength and courage, and will help to lessen fear and stress and may aid you to attract nature spirits.
---
Healing-Crystals-For-You.com is reader-supported. When you buy through links on my site, I may earn an affiliate commission. Click Here to learn more.

---
Need Balance And Spiritual Grounding?
Moss Agate may stimulate your spiritual grounding capabilities, and has an excellent quality that helps you to correct imbalances between the left and right sides of the brain.
This aids you to move forward with your life using a more united and balanced thought process.
It has a strong action within the heart chakra, which aids emotional healing, stability and courage.
The vibration that these stones embody can help you to carry forward your intentions, as they will enhance the energy that you put into particular circumstances.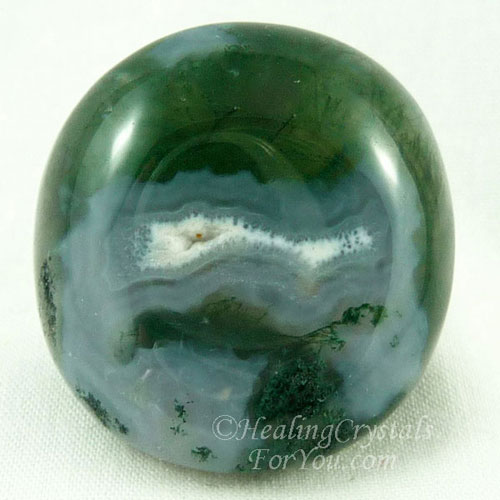 Moss Agate
It is an excellent stone for anyone who needs help to enhance your creativity, as it releases blockages and also relieves any fear that these blockages may have caused.
The left hand side of the brain governs your logical and rational thought processes, and the right hand side governs the intuitive creative side of the brain.
If you feel that you lack creativity or that you need to be able to embrace the logical side of your nature more, this delightful green stone may benefit you.
Who Should Use It? Healing Properties

Moss Agate of all colors including the green crystals, is highly effective if you have been unwell for a length of time and are now ready to permit yourself to heal.

It has strong healing ability to aid your body to heal from interminable drawn out illnesses.
If you are at all stressed, its energy will bring you strength and courage, as it will help to lessen fear and stress.
It was said to be helpful to use during childbirth, so it was known as a birthing stone, as it aids midwives and doctors to ensure the safe delivery of the child.
Blue & Green Moss Agate
This green crystal has excellent metaphysical properties, with an energy that may aid you to recuperate from lengthy illnesses.
It is said that keeping one of these stones on your body may help to make the healing of colds and flu happen more quickly.
This green stone is known to be effective as an anti-inflammatory and it may helps inflamed skin as well as helping inflammation caused by an accident or from surgery.
It is also known to aid your circulation and your lymphatic and immune systems.
Use When You Are Stressed, Fearful or Anxious
It is an excellent stone to aid anyone who has been feeling fearful, stressed or anxious.
Using Moss Agate is known as one of the methods to get relief from stress.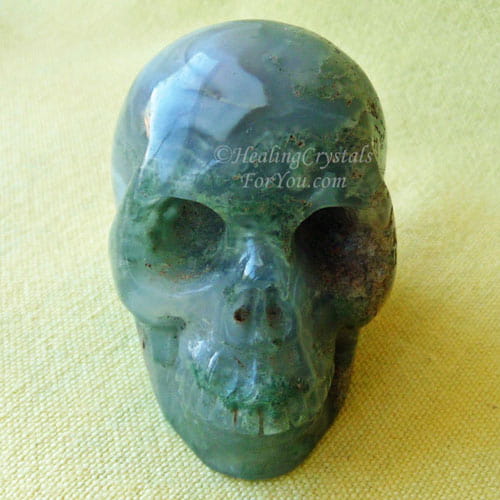 Moss Agate Crystal Skull
It not only releases any stress or anxiety that the imbalances between the two sides of the brain cause, but is known to ameliorate the imbalance as well.

This is regardless if it is the intuitive or rational part of you that needs bringing towards the center.
Green Moss Agate is a sweet stone to have in your vicinity, due to its heart based energy.
It will be most helpful if you use it to aid any of the specific areas that you require assistance with.
How Will It Help You? Wearing Moss Agate

This attractive green stone is on the birthstone list by month, as it is a January & September birthstone.
Lovely Moss Agate beads in a variety of colors other than green look attractive combined with the green  beads.
As it's a Virgo birthstone, you can also find this crystal on the zodiac birthstones list, and wearing them is an excellent way to keep this stone on your body.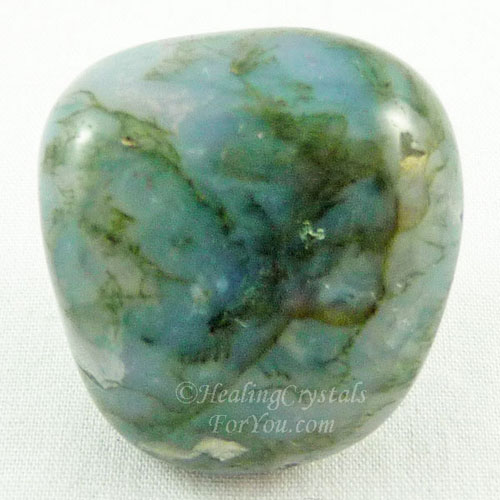 Blue & Green Moss Agate
By attracting the help of the nature spirits where you live, you may find that your surroundings become a more pleasant place to be.

Keep the stone on your body or close to you to boost the effect of its excellent qualities in your life, including grounding any excess spiritual energy down to Mother Gaia.
Its properties that aid abundance and prosperity and creativity will aid your quality of life.

You may find pieces of this stone made into birthstone jewelry as well, and it is possible to buy quite lovely pieces of Moss Agate jewelry fairly easily.
They are excellent healing crystals for you to put to good use to bring an increase in abundance and prosperity in a general way in all areas of your life.
Why Would You Use Moss Agate?

It also helps to manifest an increase in money, and works well in combination with the golden stones for this purpose. 
It may particularly help gardeners to bring about more abundant harvests from what they plant. Lovely Moss Agate bowls made from the stone are quite common.
This may be one way to keep the stone close to you more easily. An alternative is to slip a piece of the stone in your pocket, as the important thing is to keep it close to you.
This stones connection with earth energy is quite grounding, particularly when you have been doing meditation or other spiritual work.
When you are doing meditation, this is a time when it is easy to become ungrounded, so having a piece of this stone is very helpful.
It will help you to take that excess energy down through the base or root chakra to the earth star chakra for grounding with Mother Gaia. 
This is absolutely essential if you have allowed yourself to become ungrounded, and need to regain your normal balanced state.
Where Is Moss Agate From?
This green stone may be found in a number of places in the world, although stone from certain locations is more well-known.
This crystal is found in Australia, Russia, India and in the United States.
Montana Moss agate is well-known and comes from the Yellowstone River, but much of this stone is a red color as the soil there has a lot of red in it.

This stone may be green, and it also commonly has blue, yellow, brown, black, white or red colored sections in the stones.
Sometimes these other colors are the dominating color in a stone rather than the green color of the heart based Green Moss Agate.
The green stones may be in a variety of shades, from deep dark green through to the medium and lighter green stones.
Sometimes the green color is most obvious in the lovely branching and often delicate dendritic inclusions within these crystals, many that look like Moss, hence the name.
I have noticed that it is selling in some places as Aquatic Agate not sure why, but it seems like many crystals, this stone has been given an additional name.
Good Earth Connection
This green stone will assist you to make a better connection with the earth, and may allow you to make a spiritual connection with the nature spirits. 
Green Moss Agate has a lovely energy that encourages members of the Devic kingdom, the elemental creatures that like to live close to your home, to aid you.
This green crystal may aid you to allow yourself to be open to developing specific psychic gifts. 
Using these gifts may make contact with nature spirits easier. As it also can boost your patience it may assist you to be tolerant of any delay in this happening.
How To Use It? My Final Thoughts



This lovely green crystal has a strong ability to aid you to develop your intuition that may specifically aid you to help the planet.
If you are a gardener, a botanist or a 'greenie' of any sort, having one of these stones on or about you may be beneficial.
Moss Agate is an excellent stone to help you to better understand the planet. It may help you to make contact with nature spirits who may guide you with information about what action to take.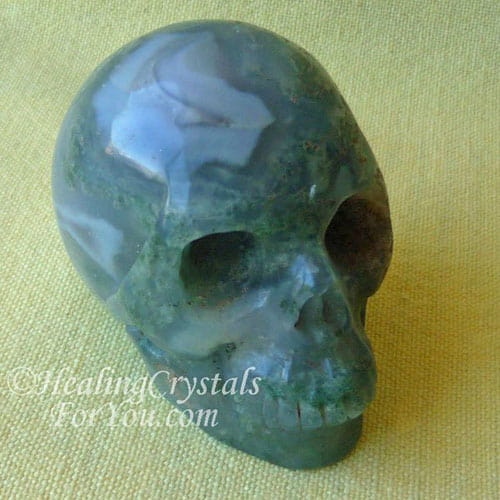 Moss Agate Crystal Skull
These ideas may come to you via an increase in what may be termed intuitive thought processes.
Green Moss Agate may aid you to achieve your goals when you have been working to a plan such as a regular exercise or weight loss regime.
This green stone is said to have been used since ancient times by farmers who recognized that by having this stone on or about their body that it ensured a better harvest.
Best Crystals To Use With Moss Agate
What are the best crystals to combine with Moss Agate?
You may like to use it with stones such as Merlinite that aid you to attract nature spirits, as they are great to combine with it. 
If you are a gardener, a farmer or a greenie, you may desire to make contact with elementals that live near you.
There are some specific stones that may be combined with Moss Agate to attract members of the Devic realm, such as Green Aventurine, Rainforest Jasper or Prasiolite also called Green Amethyst.
If you wish to stimulate an increase in the level of abundance in your life, you may choose to use it with the Golden stones and many of these are also excellent stones for enhancing creativity.
Stones such as Yellow Citrine Crystals, Yellow Apatite, Amber and Golden Labradorite are examples of some of the golden stones that may work in both areas.

To accentuate any specific area that you wish this stone to work more effectively within, you may choose to use it with other stones that aid that area, including any of the specific chakra stones.
To enhance your courage, you may choose to combine them with Preseli Bluestone,  Rhodochrosite, Sardonyx, Dravite, Tigers Eye or Tiger Iron.

You may choose to combine it with other strong grounding stones if you feel you are ungrounded, including Black Obsidian, Black Tourmaline, Tiger Iron or Black Kyanite.
Moss Agate Meaning Properties And Powers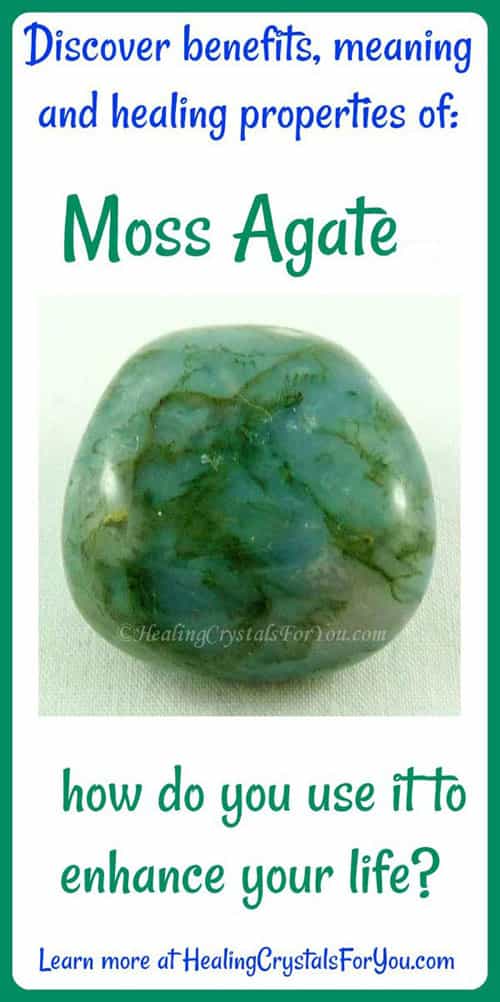 ---
Want to join my regular newsletter? It's easy.
Click on the banner that comes across the screen!
---
Looking for information about a specific crystal?

To See The A-Z of Crystals Minerals and Stones Click Here
---
Note: When you use the vibration of crystals to help and support your healing remember that crystals are part of an holistic approach to your health.
Metaphysical healing uses universal energy so does not stand alone and can be used with any other type of healing. 
Using the energy of crystals for healing yourself is about finding a way to enhance conventional medicine not replace it. So always seek out medical treatment for any worrying health issue.
---
Thank You! I Appreciate Your Visiting My Site!
In my articles I may recommend various items that I use and love or that I feel are of value to my readers, and I earn a commission for purchases made through links on this page. 
FTC Disclosure:  If you make a purchase via a link on this site, I may receive a small commission on the transaction: at no added cost to you. Thank you!
Read My Affiliate Disclosure Here

---
Please Read Copyright And Disclaimer Notice
For: https://www.healing-crystals-for-you.com/
Any information that may be found anywhere on this site is not presented as a substitute, nor intended to be a substitute for medical advice, treatment or diagnosis.
Never disregard advice from your medical professional or delay seeking medical advice because of anything you may have read on Healing-Crystals-For-You.com.