Crystals Healing Properties... 
F Section Of The Stones From D To F
Written By Liz Oakes
The crystals healing properties found on this page are specific to the stones in the F section of the D to F alphabetic category, and this is the final part of the D to F area of the alphabet.
Many crystals and stones have in-depth pages about them, so check on the picture grid below to see what stones I have written about that start with the letter F.

Fire Agate
There are many healing crystals for you to read about on this site, and there are specific pages written about many of them, both uncommon and more well known stones.

For healing crystals that have not yet had an individual page written about them, there is a short explanation below the picture grid, outlining their most prominent properties. 
This tells you the most well known attributes of the individual stone, which may help you to decide whether they may benefit you.
Crystals Healing Properties F Section

Where I have written an in-depth article on any specific stone, you will see a link highlighting the name under the picture.
Simply click on the link if you wish to go to its in-depth page so you can learn more about that stone. Once a stone has its own page it will not be covered here.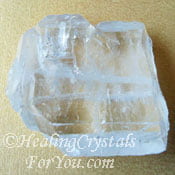 Faden Quartz
Fire Quartz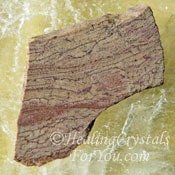 Flint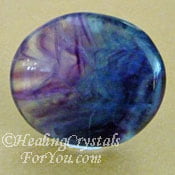 Fluorite
Looking for stones in other sections of the D to F alphabetic group?
Crystals Healing Properties - F
Faden Quartz is an interesting quartz configuration that have a fuzzy line running through them. If you would like to read more in-depth information about this specific quartz configuration, take a look at the article on quartz formations and configurations.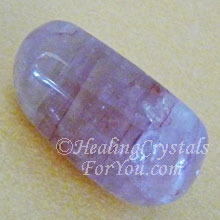 Fire Quartz
Fire Quartz is also known under a number of other names including as Agnitite, Flame Quartz or Harlequin Quartz.
This crystals healing properties relate to the inclusions within the quartz, which are usually red Hematite but may also be Lepidocrocite.
The stones vary from pale crystals with little color, through to vibrant bright red ones. They are excellent stones to aid anyone who feels loathe to participate in activity, as they will make you more adventurous and interested in life.
These are excellent stone to make you feel animated and energetic, and they may stimulate spontaneous action. They are a stone of liveliness and enjoyment of life, and they may encourage you to get out and do more.
Flint Natural English Stone
Flint is an ancient stone, that was used in the past, in every aspect of people's lives, to make tools, knives and other useful objects. It became a sacred stone that drew the help of the Gods to their lives.
These days we are aware of this crystals healing properties, as they have a strong energy that will cut away spiritual connections that are no longer helpful, and may be used by advanced healers to do psychic surgery.
When we are in relationships of any kind, we create etheric ties to each other. These ties can connect very deeply and can create health issues.
Use this stone at any or all chakras, one by one, asking spirit to cut etheric ties that have bound you to others, and free yourself from the restrictions that these unwanted ties can create.
It is also a helpful protection stone, especially for EMF protection, and is advantageous to assist you to manage your money better and through this increase your personal wealth.
Fluorite Natural Octohedron Shape
Fluorite comes in a range of colors. The crystals healing properties vary according to the color of various stones, as the different colored natural crystals have different properties.
It will particularly aid thinking as it is stimulating on the mental plane. It acts like a vacuum cleaner clearing out unwanted thoughts that are creating mental confusion.
Many of these stones, including the lovely Rainbow Fluorite, embody a mixture of colors. It is useful to have the mixture within the one stone, as they work within a variety of different chakras.
Specific colored crystals will have a stronger action at particular chakras. The beautiful Magenta Fluorite is a good example, as it is a strong higher heart chakra stone, bringing an increase of love and compassion into your life.

Forsterite
Forsterite comes in shades of yellow, including pale yellow like this one, as well as green, brown, black or white.
It is excellent to enhance communication with your spirit guides, and helps you to clearly understand and receive messages that come through from your guides.
This crystals healing properties relate to its action to boost your ability to overcome health issues of any kind.
It is said to specifically help those with fungal infections and to assist physical motor problems.

Forsterite is a good stone to help you to think clearly, and it calms and soothes your energy allowing you to feel centered and able to deal with problems as they arise.
If it is necessary for your life path to take a deviation off the planned course, it will help you to see when this is of value to your overall life journey.Otherwise it helps you to avoid unnecessary distractions.
"Imagination is more important than knowledge. Knowledge is limited, imagination encircles the world." Albert Einstein.

Crystal Books
The crystal books shown below are very in-depth crystal reference books. All of the authors have been in the crystal industry for many years, and any one of their books are good to have on hand.
Melody's Encyclopedia, Love Is In The Earth, is a book that covers more than most. This book gives you so much information, and covers so many crystals that on its own is almost a reference library.
Checkout my reviews as there are also a number of other books that are excellent reference books as well. If you wish to read reviews of my favorite Crystal Books Click Here.
Seen Judy Halls Latest Books?
Thank You! I Appreciate Your Visiting My Site!
In my articles I recommend various items that I use and love and feel are of value to my readers.

FTC Disclosure:  If you make a purchase via a link on this site, I may receive a small commission on the transaction - at no added cost to you. Thank you!
Read My Affiliate Disclosure Here

---
---